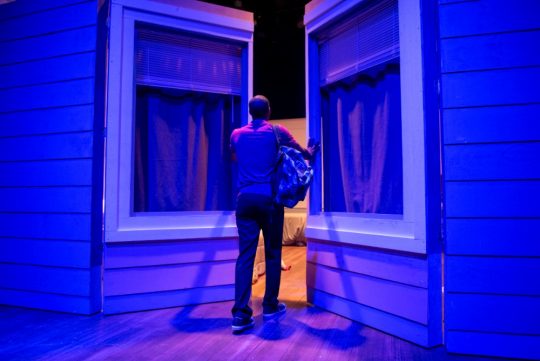 4 stars
 Upon entering the theatre, an attendant gives the patron his ticket in the form of a congratulatory letter of acceptance to Brown University. Theatergoers are then plunged into the world of the play as they're welcomed to a collegiate orientation by Iskinder Iodouku, nicknamed Izzy (beautifully played by Michael Aaron Pogue)
Jonathan Caren's thought-provoking play is very interesting. It's not about what you know but who you know and the favors that people will perform now in exchange for something later on.
Izzy also serves as the narrator of the story. He's a good-looking African-American young man,whose father immigrated from Ethiopia and married a white American woman.
He is going to tell us about his friend, Aaron Feldman, when suddenly Izzy's narration is interrupted by a cocky young man who bursts into the lobby clad only in a towel. Izzy introduces us to Aaron (played to perfection by Julian Hester), a handsome, self-entitled, young, white boy whose lawyer father is wealthy and well-connected.
And thus begins Caren's timely story of power and white privilege in America.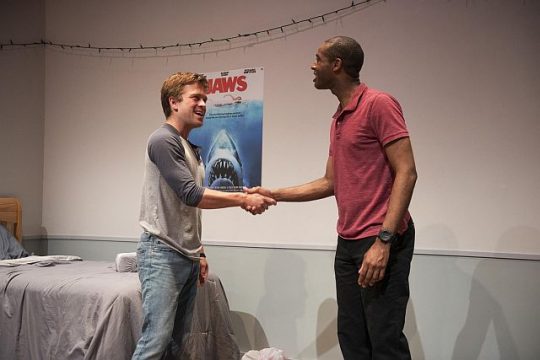 Through the double doors we're ushered back several years to the college dormitory room where Aaron and Izzy first met. We learn many things about the two roomies, including that Aaron is planning to become a filmmaker while Izzy is hoping to eventually attend a good grad school to become a lawyer.
Aaron promises that his influential father, at his son's insistence, will gladly write Izzy a glowing letter of recommendation to get him into UCLA.
Flash forward a couple years and the two guys have now graduated from Brown. Aaron has become the pampered assistant to a hotshot director and Izzy is enjoying his graduate work, thanks to Aaron's father.
While Izzy relaxes beside the pool, Aaron goes on a beer run; however, he's stopped by the police and arrested for having a suspended license.
Locked up in the jail's holding cell, Aaron encounters Dwight, a buff, streetwise, black inmate who's a repeat offender and really  knows the system. Dwight has connections of his own within the prison world and he tries to instruct Aaron how to survive the big house.
Aaron's parents decide to teach him a lesson by refusing to post bail. After a rough night, Aaron promises his cellmate that once he's released from jail, he'll convince his influential father to help clear Dwight of his charges. All Dwight has to do is promise to protect the pretty white boy against the other inmates.
Thus begins another series of incidents in which one person promises a favor in exchange for something else in the future. It's that old adage of "You scratch my back and I'll scratch yours."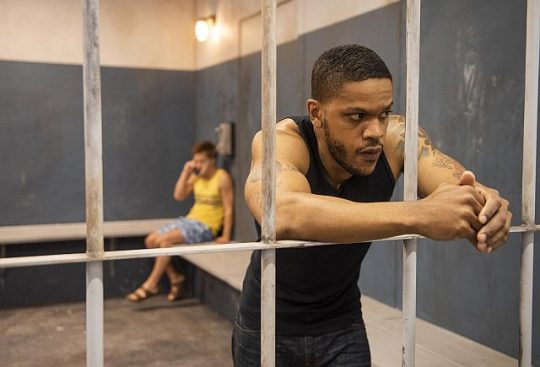 Windy City Playhouse has become one of Chicago's go-to theatre for exciting, emotionally involving, immersive drama. Their long-running hit, "Southern Gothic," continues at their new south Loop location.
But for this new drama, playwright Jonathan Caren worked together with artistic director Amy Rubenstein to transform his drama, originally written for a typical proscenium stage, into a totally immersive theatrical experience. And it's a winner.
Directed with amazing skill and tempo by Jonathan Wilson, the production take place in different locales. The various settings are the handiwork of talented scenic designer Lauren Nigri and the result is simply extraordinary.
Such close proximity to the actors and the action totally draws the audience into the story. Sometimes the theatergoer becomes a casual participant in a scene, but more often he's simply a fly on the wall observing and trying to predict what will happen next.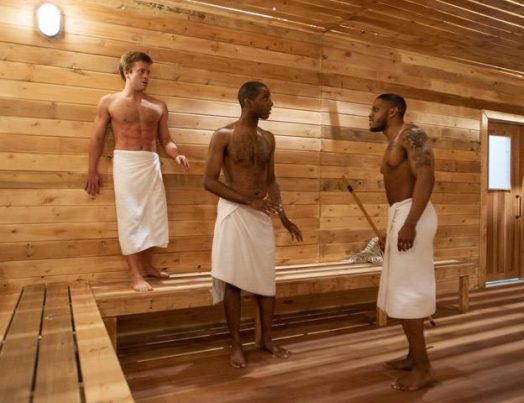 The play is occasionally funny. But, particularly as the story progresses, it grows darker, more intense and deeply disturbing.
The first act revs up to a traumatic climax while theatergoers share a darkened jail cell with Dwight and Aaron. Vicariously we sense the claustrophobia, desperation and unrelenting terror that Aaron is experiencing while imprisoned.
But the feeling of dread continues and grows throughout Act II, ratcheting up to a fever pitch until it finally explodes during the last scene that's set in the steamy sauna of an affluent sporting club.
Windy City Playhouse's riveting production of Caren's explosive drama is an absolute must-see.  The play's totally immersive, bringing every theatergoer into the story. No one simply sits back at a safe distance and observes.
Director Jonathan Wilson has maintained the drama's realism by keeping his actors honest, involved and on top of every possible situation that might occur. Sometimes theatergoers are asked to stand; but more often than not, plenty of seating is provided within each of the many locales. Refreshments are occasionally offered to further enhance the theatrical experience.
Make sure you see "The Recommendation." It's one theatrical experience you'll never forget.
DETAILS: "The Recommendation" is at Windy City Playhouse, 3014 W. Irving Park Rd., Chicago, through Sept. 22, 2019. For tickets and more information call (773-891-8985) or visit WindyCityPlayhouse.
Colin Douglas
For more shows visit Theatre in Chicago