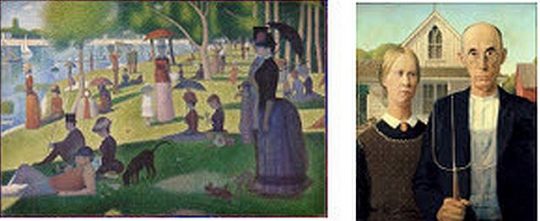 Be sure to look at what is being projected on the Chicago River side of theMart. See if you can identify which great work of art is now on the building's 2.5 acre façade.
It could be "A Sunday on La Grande Jatte," the popular 1884 painting by Georges Seurat.
Or it might be "The Bedroom," a famous 1889 work by Vincent van Gogh.
"Art on the MART" has been doing digital projections across the huge building that used to be known as the Merchandise Mart on the north side of the Chicago River since the end  September 2018 in partnership with the City of Chicago and privately funded by theMART owners Vornado Realty Trust.
Now, as of Aug. 1, 2019, those projections will be digitalized pictures of works from the Art Institute of Chicago's permanent collection. They can be seen from Wednesday through Sunday for about two hours each night beginning about half an hour after sunset.
Also geared for projection is Georgia O'Keefe's "Yellow Hickory Leaves with Daisy and Grant Wood's "American Gothic."
Digitalized projections on the MART rotate each season.
"The Art Institute is thrilled to share some of our most iconic works with the city through our partnership with theMART- a landmark architectural site and a new platform for public art in Chicago," said Robyn Farrell, Art Institute of Chicago Assistant Curator of Contemporary Art.
Explaining that part of Art on theMART's mission is to make public art space available to  cultural institutions and artists, Executive Director Cynthia Noble said, "We are honored to work with the Art Institute of Chicago to offer unprecedented access to four beloved, yet transformed, works from the permanent collection."
Jodie Jacobs