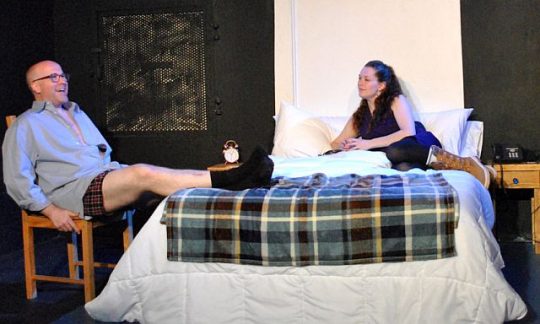 4 stars
Set in a Holiday Inn hotel room in International Falls, Minnesota, traveling comedian Tim has come to the end of the road while front desk clerk Dee wants to escape her life. Together they explore the use of comedy to mask their sadness and express their pain.
Tim (Sean Higgins) shares his unsuccessful quest to find his own unique voice and urges Dee (Marie Weigle) to find hers, stressing that honesty and authenticity is what is important.
In "International Falls," playwright Thomas Ward evidently understands that struggle and has clearly met the challenge writing some of the most authentic and honest dialogue I have ever heard on stage.
Presented by by the Agency Theater Collective in partnership with End of the Line Production, Ward's brilliant dialogue comes to life as spoken by Higgins and Weigle. You feel like you are sitting in their hotel room witnessing the events unfold.
Higgins' cringingly awkward stand-up asides are perfectly painful and his obvious discomfort with himself combined with false bravado is portrayed with appropriate nuance.
Weigle's pent up frustration, emerging confidence and vulnerability is palpable but never goes over the top.
The blocking was seamless and meaningful.
The naturalness of the actors can only be achieved when they have a critical eye assuring them that what they are doing is right.
Director Cody Lucas clearly gets credit for pulling this small ensemble together into a beautiful unified performance. Orchestrating the emotional level with symphonic accuracy, Lucas dials up the emotions to peak levels that never gets shrill, then dials them back down to create a needed contrast that keeps the audience engaged and caring about the characters.
This voyeuristic experience is further enhanced by the intimate setting of the Nox Arca Theatre which is actually a small industrial space on the 5th floor of a concrete loft building on the corner of Irving Park in the Ravenswood corridor. Scenic Designer Soli Eisenberg has done a brilliant job of incorporating the natural elements of the room to create the effect.
By the way the music mix before the show began was awesome.
DETAILS: "International Falls" is at Nox Arca Theatre, 4001 N. Ravenswood Ave, #405. Chicago, through August 31, 2019. Running time is 90 minutes with no intermission. For tickets and information visit We Are the Agency.
Reno Lovison
For more shows visit Theatre in Chicago