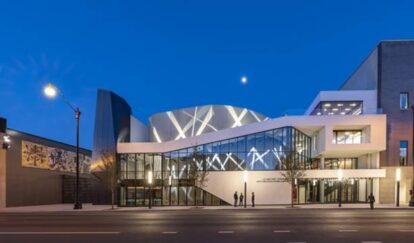 Internationally known Steppenwolf Theatre Company finally appears settled. Today, Nov. 2, 2021, Steppenwolf announced its $54 million Liz and Eric Lefkofsky Arts and Education Center is now open.
Once a small ensemble begun in 1974 by Terry Kinney, Jeff Perry and Gary Sinise, it opened in the Unitarian Church in Deerfield, moved to the basement of another church in Highland Park, later on found a space at the Hull House on Broadway in Chicago, then an intimate space on North Halsted before settling into the 1600-1700 block of North Halsted in the Lincoln Park neighborhood. Along the way it added H. E. Baccus, Nancy Evans, Moira Harris, John Malkovich, Laurie Metcalf and Alan Wilder and other well-known actors to its ensemble roster.
Part of a multi-phase $73 million Building on Excellence expansion campaign, the Liz and Eric Lefkofsky Arts and Education Center houses a 50,000 square foot theater building plus education center designed by Gordon Gill of Adran smith and Gordon Gill Architecture with theater design and accoustics by charcoalblue (construction is by Norcon).
Steppenwolf's expanded campus includes, new lobbies, full-service bars and The Loft Space for area youth.
"What an extraordinary day this is for our company and Chicago. This multi-phase campus expansion is over two decades in the making and is a manifestation of Steppenwolf's core values of ensemble, innovation and cultural citizenship," said Executive Director E. Brooke  Flanagan.
"Formed by an ensemble of young actors who wanted to create courageous work, nearly 50 years later our expanded campus builds on the company's beginnings and ensures a future for the continued artistic growth of the ensemble and space for tens of thousands of Chicagoland teens to experience transformative arts education," Flanagan said.
For more information about Steppenwolf Theatre Company visit Steppenwolf.
Jodie Jacobs