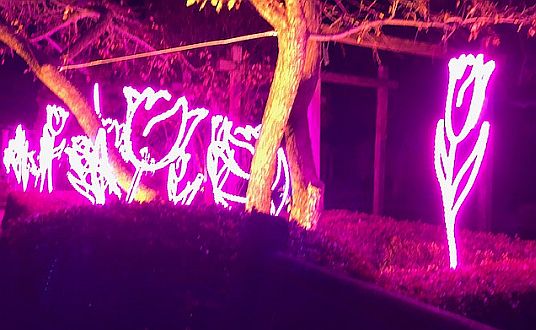 Chicago might as well be called Holiday Central given all the fun, light-filled events taking place across the city and suburbs. So, to make it easier to figure out the where and when, we are dividing up the what.
Part One listed some of the holiday shows and date specific events such as parades because shows need tickets and some events are only one day or weekend.
Part Two is about light shows in and around Chicago. Most go through Jan. 5, 2020. Lights typically are on from about 4:30 to 9 p.m. Check each event's site for hours and dates either not on or by holiday limitations.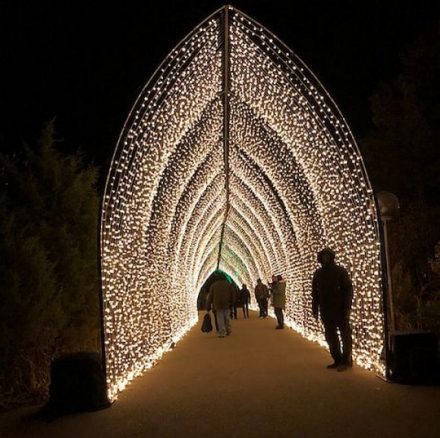 Chicago Botanic Garden Lightscape
Imagine walking through curtains of lights, spotting an Oriental landscape across a lake and watching a field of lights rolling towards your path. Those are just a few of the spectacular light experiences now at the Chicago botanic Garden through Jan. 5, 2020.
Called Lightscape, the holiday light show takes the place of Wonderland, the garden's annual, mostly indoor, holiday display of trains, villages and Chicago landmarks.
The new show is a British export that was first used in London's Kew Gardens.So expect the unexpected from a London-style fog and singing trees to snow-flake-patterned walkways and a cathedral-like archway. Different music accompanies each light display.
It's possible some youngsters (and oldsters) will miss the trains and landmarks even though many of them are up in a different format in summer.
But judging by all the oohs and aahs heard as visitors strolled outdoors opening night (Nov. 22, 2019), the light show is attracting another generation of garden holiday visitors.   Click IMG_2291  for a nano-second of the rolling landscape that ends the Lightscape.
Entry is ticketed and by time and date so best plan is to buy tickets on line. The path is a mile-long but plan to spend an hour to gaze, snap unusual light displays and take selfies. Lightscape goes through Jan. 5, 2020.
Prices vary by category ranging from not busy to busy times. Parking is extra unless you are a garden member.
The Chicago Botanic Garden is at 1000 Lake Cook Rd. Glencoe, on the border with Highland Park, just east of Edens Expressway. For ticket and other information call  (847) 835-5440or visit Chicago Botanic Garden Lightscape.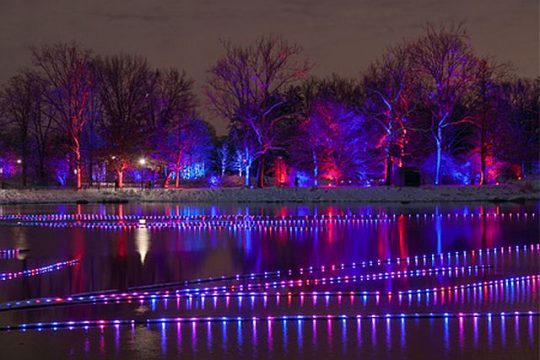 Fall's gold and amber hues changed to blues, purples and reds when "Illumination: Tree Lights at the Morton Arboretum" opened Nov. 23, 2019.
A new, mile-long path goes past interactive light displays that include Tree Fascination's digital projection of color and pattern. Music adds to the magic felt when walking among the trees after dark.
Parking is free with Illumination tickets. The Morton Arboretum is at 4100 IL Hwy 53 west of Chicago in Lisle. For tickets and other information call 630) 968-0074 or visit MortonArb.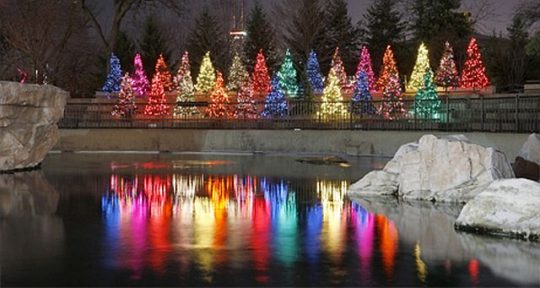 Visitors who enjoy Lincoln Park Zoo during the day will find the place transformed thanks to a  ComEd sponsorship when 2.5 million lights start twinkling and hundreds of luminous displays light up on Nov. 29, 2019 as part of ZooLights.
The annual holiday event includes ice sculpture carving on weekends, carolers on weekdays and lots of other activities.
Entry is free but ZooLights is not on daily so check the website for days off and events for member or family activities. In addition, some activities such as the Ferris Wheel, Carousel and Light Maze require tickets.
Lincoln Park Zoo is at 2001 N. Clark St. For other information call (312) 742-2000 or visit LPZoo/ZooLIghts.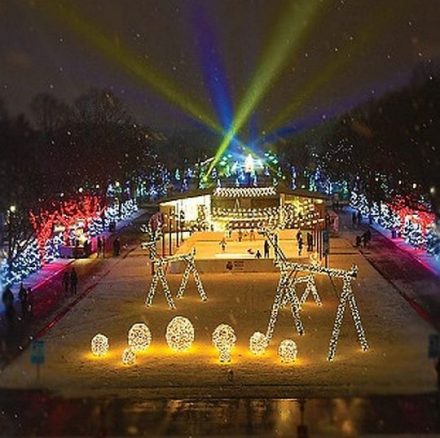 When Holiday Magic opens Nov. 30, among the favorite stops that veteran Brookfield Zoo's annual visitors go is a 41-foot tall talking tree. However, the more than one million LED lights and the giant LED animal sculptures totally add a festive air to this visit to the zoo.
The event is weekends until the end of December when it goes from Thursday through Tuesday from Dec. 26 through Dec. 31, 2019.
There is a parking and entry fee if not a member.  Recommended parking is in the North Lot at 8400 31st Street (1st Avenue and 31st Street), Brookfield.
For ticket and other information call the Chicago Zoological Society Guest Line  at (708) 688-8000 or visit Brookfield Zoo Holiday Magic.
Jodie Jacobs