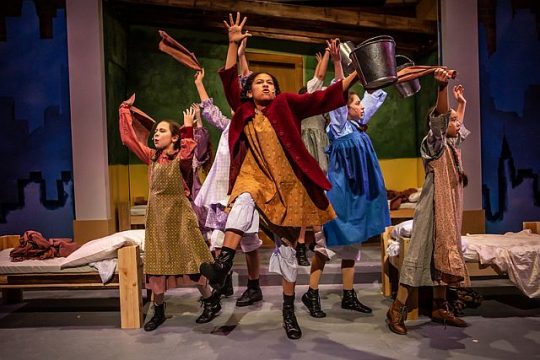 4 stars
One of the most popular comic strips of all time, "Little Orphan Annie" comes to life at the Citadel Theatre. recently extended until January 5, 2020.
Staged in a small, intimate space, the show features talented singers and dancers, a happy musical score, a delightful group of ragtag orphans and one adorable mutt, Sandy.
The plot revolves around poor Annie who lives in an orphanage, believing her parents are out there somewhere. She escapes her miserable life and tries to find them in New York City, without success.
But her life takes a turn for the better once Grace Farrell (the lovely Chamaya Moody with an operatic voice) comes to the orphanage seeking a child her boss, Oliver Warbucks, wants to entertain for the holidays.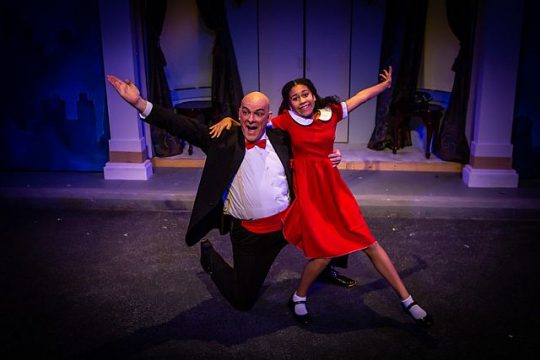 This musical comedy continues to delight family audiences with a rags-to-riches story, full of optimism and hope as well as a visit to President Franklin Roosevelt.
Frequent Citadel director Robert Estrin takes the reins and maximizes the space by using the entire theatre.
Sharing the role of Annie is Sophie Kaegi and Kayla Norris, while the orphans are played by a rotating group of young performers. Norris played Annie on Opening Night, giving a rave performance of vocals and acting.
The mean-spirited, put-upon Miss Hannigan is played by Citadel Co-Founder Ellen Phelps who gets the majority of the laughs.
Oliver "Daddy" Warbucks is played by John B. Boss who has performed the role five other times. He's got the role down pat as a powerful businessman who might just be a little lonely.
Rooster Hannigan, played by Kyle Ryan, and Lily St. Regis, played by Becca Duff, are the conniving imposters who try to pass as Annie's real parents. They're a great pair, bringing the house down as they sing and dance in "Easy Street."
Popular songs include, "Tomorrow," "You're Never Fully Dressed without a Smile" and "Maybe," which practically guarantees you'll leave the theatre singing.
Kudos to set designer Eric Luchen whose versatile staging makes great use of the space and Patty Halajian for her authentic Depression-era costumes.
"Annie," recently extended until Jan. 5, 2020.is suitable, feel-good holiday entertainment the whole family will enjoy.
DETAILS: "Annie" is at Citadel Theatre, 300 S. Waukegan Rd., Lake Forest, through Jan.5, 2020. Running time: 2 hours, 30 minutes with one intermission. For tickets and other information call (847) 735-8554 or visit Citadel Theatre.
Mira Temkin
For more shows, visit Theatre in Chicago