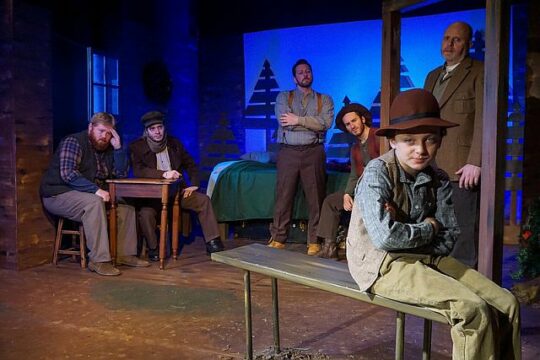 3 Stars
Five men in a small mining camp circa 1850s California find the meaning of family with the addition of a baby boy.  It is an upbeat holiday story that explores the meaning of family and serves to illustrate the need for humans to band together forging family bonds in whatever circumstances they happen to be while also exploring the tug of bloodline ties.
This sentimental Pride Films & Plays (PFP) production directed by Danne W. Taylor will rival anything you might find on the Hallmark Channel this holiday season and may require an extra dose of insulin.
The well written script by Normal Allen is inspired by stories of 19th Century author Bret Harte and is best served by Michael D. Graham as Old Jake, the glue that keeps this production together. Graham seems to have the best grasp of the cadence and pace of the men of this period and circumstance.
BethAnn Smukowski is also a breath of fresh air as Aunt Sarah who has travelled from New England to the foot hills of the Sierras in search of her missing sister.
Fifth grader Henry Lombardo (Tom) is quite winsome holding his own while playing against five men three time his size and age.
Fiore Barbini is perfectly type cast physically in the pivotal role of Hoke but struggles to find the right balance and tone for this stoic character.
The other three men, Zane Sade(Boston), Max McKune (Georgia) and Leo LaCamera (Moscow), capably represent a set of cultural stereotypes depicting the diversity of characters who set out during the famed California Gold Rush to seek their fortune (a tip-of-the-cap to LaCamera for his management of the Russian Language).
Original music by Michael McBride fits the story well. I also really enjoyed the set list of incidental period music before the play and during the intermission compiled by stage manager Michael Starcher.
Kailee Tomasic's scenic design is minimal but evocative. But Robert-Eric West's costume design totally missed the mark, making the guys look more like a group of co-workers on a business retreat at a Wisconsin cabin rather than hard scrabble 19th century miners who have probably not seen a bath tub or change of clothes more than once a year.
Since Sears and Montgomery Ward had not yet been founded I'm not sure how Tom's clothes fit him perfectly in an area with few if any other children and where most retail goods were shipped in and sold at a premium.
PFP and playwright Allen seem willing to champion the idea of non-traditional families but in the awkward ending shied away from making a full commitment to this concept.
This is a feel good family friendly show with an inspirational if somewhat cliché plotline that might be a bit too saccharine for some but might just satisfy the sweet tooth of others.
"The Christmas Foundling" is at The Buena Pride Arts Center, 4147 N. Broadway, Chicago, through Jan. 5, 2020. Running time: just under two hours with one intermission. For tickets and information call (773) 857-0222 or visit Pride Films and Plays.
Reno Lovison
For more shows visit Theatre in Chicago