America's Best Outcast Toy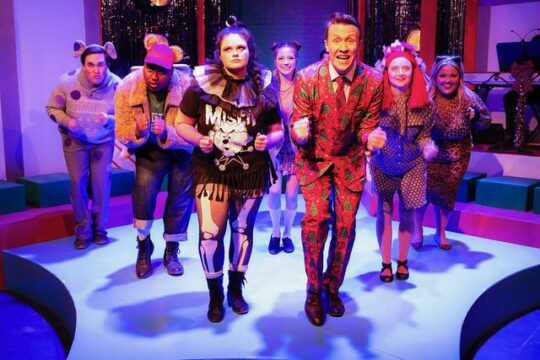 3 stars
A delightfully original holiday musical is debuting in the Buena neighborhood that  is both nostalgic and current. The shift in television entertainment from sitcoms and dramas to reality shows inspired this spunky musical spectacular.
With a brilliant book and lyrics by Larry Todd Cousineau and a catchy score by Cindy O'Connor (the team that wrote the Jeff Recommended "All That He Was"), savvy theatergoers have a brand new holiday alternative available to them, premiering at Pride Films and Plays.
The premise for this 80-minute, one-act is pretty clever. The musical is a mashup between a particular scene inspired by the 1964 cartoon classic, "Rudolph, the Red-Nosed Reindeer," and the turning points from an array of popular TV reality contests.
In this competition show, Hermey, the elf who ran away from Santa's workshop because he'd rather be a dentist than a toymaker, is the emcee of a talent challenge.
Cousineau has changed the elf's name to Schmermie, masterfully played by Patrick Regner, an affable, over-zealous actor/singer/dancer who absolutely owns this production.
The contestants are all nonconformist playthings, the odd characters from The Island of Misfit Toys.
There is Ashley, a shy rag doll with a low self-image, perfectly played by the amazing Julia Rowley. And we have Jackie, a punky, outspoken character who loves her independence, portrayed with panache by terrific vocalist Haylie Kinsler.
Anna Blanchard brings her astounding voice to the role of Squeak, a sweet, innocent toy mouse who, at first, can barely make herself heard. Bucky, a cowboy doll (think Woody, from "Toy Story") with an ostrich attached to his arm, is played by the talented Josh Kemper.  And lovable Danny Ackman is touching as Spotty, a pink and purple polka-dotted elephant toy who prefers to enhance his coloration.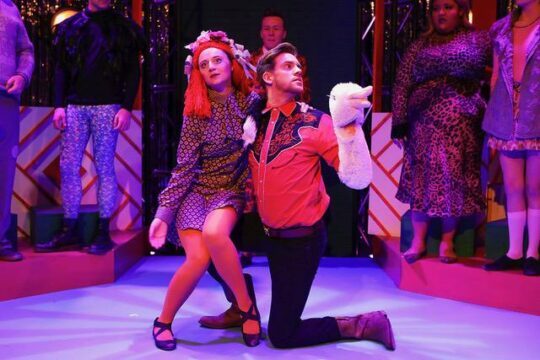 In addition, three of the actors alternate as misfit toys and the show's judges. Jasmine Lacy Young portrays both Kitty, a brassy feline figure plush various celebrity judges, such as Paula Abdul. Tyler DeLoatch is a fluffy, fuzzy teddybear, appropriately named Beary, who also splits his stage time playing several famous moderators, like Randy Jackson.
But the true standout of this production is Riley Smith, an accomplished young actor making his Chicago debut as the strange hybrid toy called Fishbird. Smith dazzles portraying a number of celebrity judges such as Simon Cowell from "American Idol" and he vamps the stage as Michelle Visage, the foremost star of "RuPaul's Drag Race."
He lends his bread-making skills to impersonating Paul Hollywood, of "The Great British Baking Show" and he roughs it as macho Jeff Probst, host of the popular reality show, "Survivor." Smith is one of the reasons that this production shines so brightly.
This new musical is carefully guided and choreographed with sass and spirit by gifted actor-turned-director, Donterrio Johnson who presented Chicago with a heartfelt revival of "A Man of No Importance."
He's assisted by adept musical director, Cody Michael Bradley, while Matt Salvo ably provides keyboard accompaniment for the cast. Evan Frank who seems to out-design himself with every production, has created a splashy stage set that's both functional and alluring. Amanda Barth must also be commended for her innovative props, such as a variety of realistic cakes for the competition.
Multi-talented theatre artist Jos N. Banks whose acting credits include Lola in the National Tour of "Kinky Boots," costumes this production with a wardrobe of commanding, chromatic clothing for these comical characters.
In spite of all the festivity and fun, including some inside LGBTQ humor and a sincere message about how we're all really misfits, the show could use some tightening. Not all of the comedy is funny and could use some help. The losing characters each have an exit monologue that does little to enhance the play.
The true strength of this show is its clever concept and its addictive music, particularly the big production numbers that feature Johnson's choreography.
With a little work and some judicious cutting, this happy little musical could easily become a welcome yearly holiday event in Chicago.
DETAILS: America's Best Outcast Toy is presented by Pride Films & Plays at the The Broadway, 4139 N. Broadway, Chicago, through Jan. 12, 2020. Running time: 80 minutes. For tickets and other information call (773) 857-0222 or visit Pride Films and Plays.
Colin Douglas
For more shows visit Theatre in Chicago