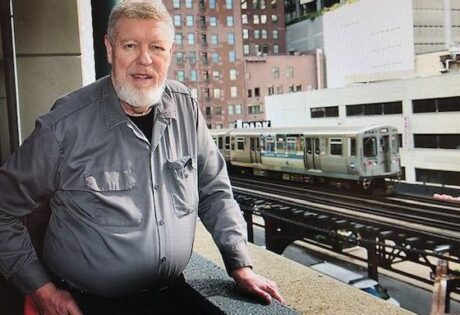 Readers who pick up "The Loop: The 'L' tracks that shaped and saved Chicago" by Patrick T. Reardon, today, should picture the constant stream of office workers, lawyers, financers, shoppers and theater goers who filled Chicago's downtown business district before the COVID-19 pandemic forced pretty much everyone to work and shop from home.
Reardon makes the case that unlike some big cities' downtowns such as Detroit which faced difficult times until it recently started a comeback, Chicago's business district flourished because its heart was encompassed by the approximately two miles of elevated tracks known as The Loop.
Ask many Chicagoans about The Loop and they are likely to say it is the downtown business district. The Loop's elevated tracks follow Wabash Avenue on the east, Lake Street on the north, Wells Street on the west and Van Buren Street on the south.
Indeed, The Loop is usually considered so important as a Chicago neighborhood that business, restaurants and residences that have developed south and west of it are now known as in the West Loop and South Loop neighborhoods.
However, the author doesn't start with the building of what is actually a rectangle of tracks.
Readers interested in that beginning should start on page 97 in the chapter called "The Birth of the Union Loop" which chronicles some of the shenanigans by city and real estate movers and shakers that entrepreneur Charles T. Yerkes wallowed through to make the Union Elevated Railroad Company (Union Loop Company) a downtown elevated track reality beginning in 1895 and completed in 1897.
Starting with the later chapter and then going back is a good idea because Reardon often refers to The Loop early on as the Union Loop but the word Union doesn't mean much until the birth of his company.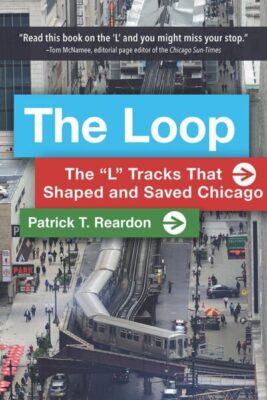 What Reardon, a long time Chicago Tribune writer, columnist, editor and Pulitzer Prize winner, does do early in the book is convincingly dispute claims that The Loop really was an evolutionary name that grew from the many small loops made by cable cars.
And even though Chicagoans have lovingly adopted The Loop name for downtown Chicago, the book also describes efforts to tear down the elevated tracks because they pass second-story business windows, shadow the businesses on their streets below and make a racket.
The book contends that the "L" tracks still exist today partially as a result of their landmark status, their universal identity with Chicago similar to San Francisco's cable cars and New York's Brooklyn Bridge and the efforts to save them by a former mayor, the late Jane Byrne, after Mayor Richard J. Daley wanted them gone.
As evident by the bibliography, notes and 230 pages of historic references, Reardon has definitely done his research. Translated, that means there is extraneous information including bits about skyscrapers and Potawatomi Indians, but readers will come away with a better understanding of Chicago and its core.
The Loop: The "L" Tracks that Shaped and Saved Chicago (Southern Illinois University Press, Carbondale, 2020)
Jodie Jacobs