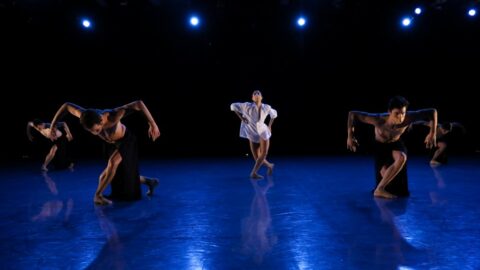 4 stars
Don't even try to shoo Maurice Ravel's famed "Boléro" out of your head after hearing and seeing it interpreted by The Joffrey Ballet's Studio Series.
Streaming now through Mar. 2, 2021, the haunting beat returns over and over so instead of worrying about it, just go back to the YouTube channel  to hear it again and re-watch how choreographer Yoshihisa Arai has fit dance moves to the compulsive rhythm.
The program, backed beautifully by the London Symphony Orchestra, is an exciting Joffrey world premiere featuring Anais Bueno and ensemble.
Costumes by Temur Suluashvili reflect Yoshihisa's light and shadows theme. Masks are worn and fit the costuming and mood.
It is performed in the Gerald Arpino Black Box Theater at Joffrey tower. Running time is 16 minutes. To watch visit Boléro | Joffrey Ballet.
Jodie Jacobs