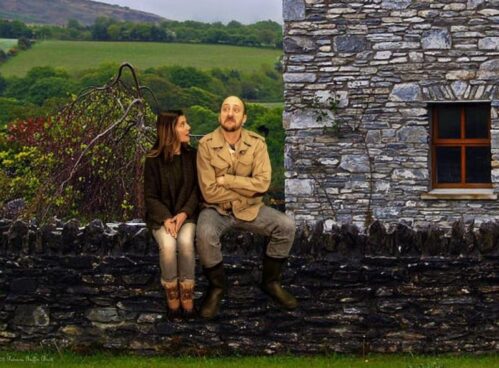 Left: Laura Leonardo Ownby (Rosemary), Right: Ross Frawley (Anthony). Photo by North Shore Camera Club.
3 Stars
When John Patrick Shanley's play, "Outside Mullingar," opened on Broadway, January 2014, it received accolades as a new kind of rom-com. For one thing, instead of young people, it featured older adults embarking on new relationships.
Thus is the play recreated at Citadel Theatre with four outstanding actors who bring the story to life. Set in Ireland, the play involves two families who own farms right next to each other.
Anthony and Rosemary have grown up together. Rosemary has been harboring unrequited feelings of love for Anthony her entire life.  Anthony, who is painfully shy and unaware, still lusts over Fiona who went screaming the other way when he revealed his true feelings for her.
The major issue in the show is whether or not Anthony should inherit his family's farm upon the death of his father.  His cranky dad wants to leave the farm to his nephew Adam from New York City.
When I first read of the plot, it seemed vaguely familiar. That's because the play had been turned into the 2020 movie, "Wild Mountain Thyme" starring Emily Blunt, Jamie Dornan and Jon Hamm. The screenplay was written as well as directed by Shanley, based on his play.
Audience members will get caught up in the play from the very beginning as Irish music welcomes them into the theatre.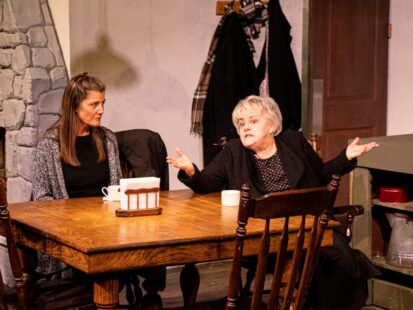 The four principals include: Susan Hofflander as widow Aoife Muldoon, Jack Hickey as widow Tony, Laura Leonardo Ownby as Rosemary and Ross Frawley as Anthony.
Hofflander is powerful and yet sympathetic as the widow Muldoon, while Hickey is a gruff, crabby old man who is filled with regret at some of his choices. Ownby shines as Rosemary and is the most animated character in the play. Frawley as Anthony plays his part with strong emotion and fervor. You're rooting for both of them to finally break through.
What's fascinating about the play is that you meet the parents and experience their interaction with their offspring. Then, it's just the younger generation who must forge ahead.
Directed by Beth Wolf who was moved by the theme of loneliness in the play, "Outside Mullingar" really draws upon the idea of it's never too late. Founder and artistic director of the free-Shakespeare-in-the park company Midsommer Flight, Wolf directed Citadel's production of The Roommate two years ago.
Kudos to Eric Luchen for his innovative set design, flipping one farmhouse kitchen to another, without moving sets.
Outside Mullingar really gets inside its characters with sweetness and charm.
DETAILS: "Outside Mullingar" is at Citadel Theatre, 300 S. Waukegan Rd., Lake Forest, through March 13. Run Time: approximately 90 minutes with no intermission. For tickets and more information visit Citadel Theatre.
State COVID restrictions in effect at the time will be enforced at Citadel's 144-seat performing space.
Mira Temkin
For more shows visit Theatre in Chicago