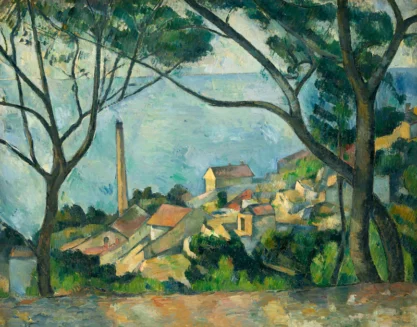 Walking through Cezanne, an extensive exhibit now at the Art Institute of Chicago and co-curated with the Tate Modern in London, is like pulling back a curtain to really see and understand the French artist's various approaches to portraitures, landscapes and figures.
Influenced by Camille Pissarro, Paul Cezanne (1839–1906) was also admired by Pissarro, Claude Monet, Henri Matisse and Pablo Picasso.
Indeed, "The Sea at L'Estaque Behind Trees" done by Cezanne, 1978-79 was owned by Picasso, and is in the Musee National Picasso-Paris collection on loan for this exhibit.
Works are on loan from several museums and private collections. Visitors should expect to spend close to two hours. The exhibit features 80 oil paintings, 40 watercolors and drawings and two sketchbooks. Some will look familiar. Others will be less known and seldom viewed.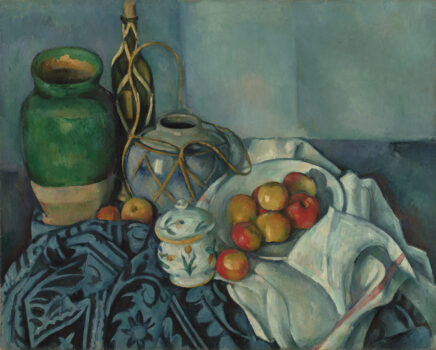 Beautifully curated, the exhibit places watercolors of the same or similar subjects close enough to compare. As with many artists, Cezanne's works reflect different stages of life. Boards near each phase talk about those periods.
Called by some artists and art historians as the "Father of Post Impressionism," Cezanne's paintings are a bridge from Impressionism to Post Impressionism.
His early and middle years paintings also became his own bridge. Visitors who think they can identify a work as by Cezanne may be surprised .  His "Still Life with Apples," 1893-94 oil painting, is quite different from "Still Life with Knife and Watermelon" a watercolor done later, about 1900.
Cezanne's still life paintings of apples and fruit could easily fill an exhibit on their own. But you will see a still life series of another subject, skulls. They were done in his later years.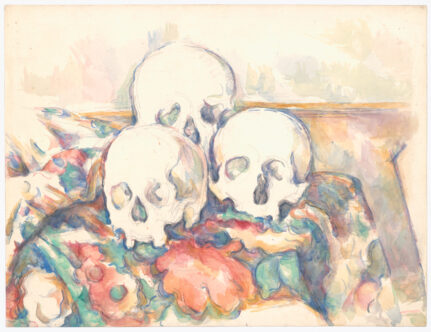 Part of his appeal to other artists was how his feelings about a subject were expressed by his brush strokes.
"Cezanne pursued an art distinct from his Impressionist colleagues," explained Gloria Groom, Chair and David and Mary Winton Green Curator, Painting and Sculpture of Europe.
"Whether looking at the countryside around Paris or at a still life arrangement indoors, his was a laborious process and state of mind that involved finding the exact brushstroke to evoke his feelings, his sensations. The exhibition aims to deepen our understanding of this deliberate, singular process," said Groom.
By the time a visitor exits the exhibit there should be a feeling that some  paintings seen in art galleries and art shows in the current century are not that different in technique from how Cezanne painted.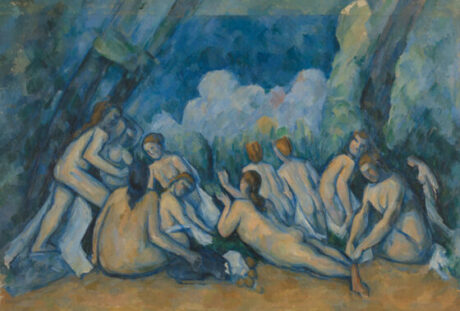 "While Cezanne himself was as interested in long traditions of painting as much as its modernist future, it's simply not possible to envision twentieth-century avant-garde art without Cezanne's influence," said Caitlin Haskell, Gary C. and Frances Comer Curator of Modern and Contemporary Art.
"Cezanne approached painting as a technically rigorous yet deeply personal search for truth in art making. And in the process he upended the conventions of artifice in European painting, laying bare the components of color and brushwork used to compose images, and establishing the fundamentals of what would become Cubism, Fauvism, and non-objective art," said Haskell.
(Note: If you go, get the Art Institute app (know your Apple store password) and go to the number accompanying some of the paintings to hear about Cezanne's technique and aims. The museum hasn't been using individual recorded devices since COVID began.)
The exhibition is organized by the Art Institute of Chicago and Tate Modern, London. It is curated by Gloria Groom, Chair and David and Mary Winton Green Curator, Painting and Sculpture of Europe and Caitlin Haskell, Gary C. and Frances Comer Curator, Modern and Contemporary Art, Art Institute of Chicago and Natalia Sidlina, Curator, International Art, Tate Modern.
"Cezanne" is at the Art Institute of Chicago May 15 through Sept. 5, 2022. The museum has two entrances: 111 S Michigan Ave and 159 E. Monroe St. For more information including tickets and hours visit AIC.
Jodie Jacobs