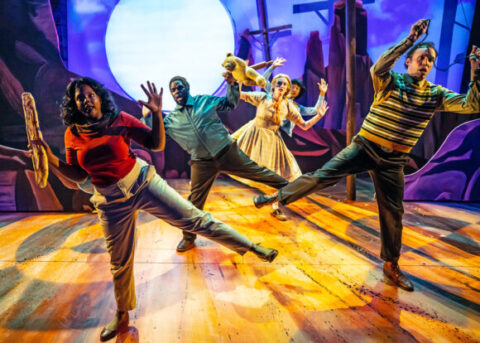 You don't have to wait until fall to get back into the show-going groove. The Chicago area is still vibrant this summer. Here are three shows to put on the calendar now.
At Chicago Shakespeare
Maybe you remember when the Broadway mega-hit, "Six the Musical" first opened in Chicago and you wished you saw it before it went on to Broadway. Six the Musical
A show about the six wives of Henry the Eighth written Toby Marlow and Lucy Moss, the Cambridge University Musical Theatre Society did its world premiere at the  Edinburgh Festival Fringe in 2017. Its North American premiere was at the Chicago Shakespeare Theater in May, 2019 where it was directed by Jamie Armitage and Lucy Moss and was a sell-out before going on to Broadway.
Now Chicago Shakespeare has mounted "It Came from Outer Space," another musical that has been so popular it has been extended and is likely on its way to Broadway. Directed by Laura Braza, the production opened June 22 to run about a month but has been extended to July 31, 2022.
Based on the Universal Pictures's 1950's cult sci-fi classic, the production was commissioned and developed into a musical comedy by Chicago Shakespeare with creative producer Rick Boynton. Book is by Joe Kinosian and Kellen Blair with music by Kinosian and lyrics by Blair, the pair who won a Jeff Award for their " Murder for Two" in 2011 before the show went to Off Broadway.
The plot: Amateur astronomer John Putnam meets a spaceship in the desert but no one in his town believes him until the "visitors" appear causing chaos. Try to catch it at Chicago Shakespeare's theater Upstairs before it moves on. For tickets and more information visit Chicago Shakespeare.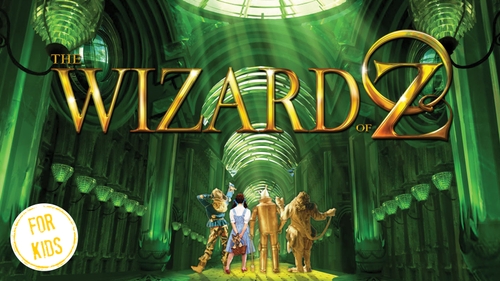 At Marriott Theatre Lincolnshire
Don't worry about age when seeing the "Wizard of Oz", the Marriott Theatre's current show for children (and all ages). Directed by Johanna McKenzie Miller and lasting just one hour, the production, as always with the Marriott Theatre for Young Audiences, zooms in on the important parts and songs leaving audiences with something to hum, to discuss among themselves and talk about with whomever they bring.
Opened July 8, the show runs through Aug. 7, 2022 and then returns Nov. 15 through Dec. 31, 2022. It's OK to sing along to "Follow the Yellow Brick Road," Ding Dong the Witch is Dead," and leave humming "somewhere Over the Rainbow." 
The plot: A tornado sweeps Dorothy Gale and dog Toto from their Kansas farm to the Land of Oz. There they journey to the Emerald City to see the Wizard so they can return home. On the way they meet and become friends with a Scarecrow, a Tin Man and the Cowardly Lion.
Marriott Theatre Lincolnshire is at 10 Marriott Dr., Lincolnshire at Milwaukee Avenue on the south side of Half Day Road (Rt. 22). For tickets, show dates and times visit www.MarriottTheatre.comoor call (847) 634-0200.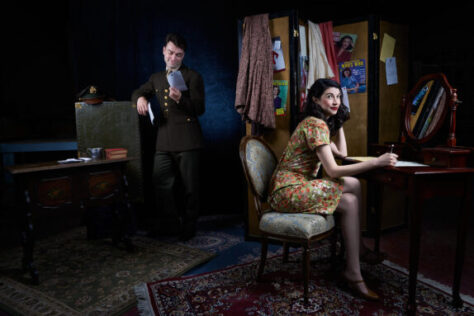 At Northlight Theatre
"Dear Jack, Dear Louise" at Northlight Theatre from July 7 through Aug. 7, 2022, takes audiences back to the times of World War II.
The Plot: Army doctor Capt. Jack Ludwig writes to Louise Rabiner, an aspiring New York actress and dancer during World War II. The story relates the problems of Olivier Award-winning playwright Ken Ludwig's parents' courtship.
 For more information and tickets visit Northlight Theatre. Northlight Theatre is in the North Shore Center for the Performing Arts at 9501 Skokie Blvd., Skokie, IL
For more show ideas visit   Three play alternatives to computer time.
Jodie Jacobs