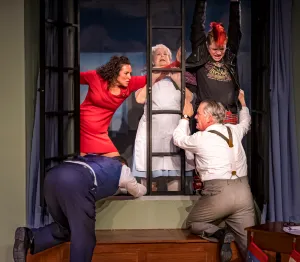 Recommended
Instead of going the Dickens or Christmas Story route, Citadel Theatre is doing "It Runs in the Family," a classic British farce by comedic playwright Ray Cooney of "Run For Your Wife" and "Funny Money" fame. 
Its setting is a London hospital right before Christmas where presents for children are hidden like a body beneath a covered gurney and references to a Christmas Panto (a nutty pantomime) give it the requisite holiday note.
But anyone familiar with farces know that what really is important is a fast-paced rhythm of entrances and exits, revelations, mistaken (or not) identities and flow of ribald, fat fanny and rear-end gags.
The Citadel cast is excellent but on the Sunday I went, the first half of the first act felt slow and the audience didn't pick up the gags until later.
Timing and pace is everything in a farce. It finally picked up speed and the characters threw their lines out with gusto during the second half of the first act which the audience appreciated with loud snickers, guffaws and applause. 
All the action takes place in the doctors' common room where Dr.  David Mortimore is trying to prepare for his important, possibly career-making, speech to a conference of neurologists- when.
The not-so-morally-good doctor, played by Tim Walsh, had lots of reasons to be overly anxious. Walsh is believable as Mortimore if this were a regular play and not a farce. It's actually OK to overplay anxiety.  
Former nurse Jane Tate (Aimee Kleiman who also played her role as if it were a regular play) confronts Dr. Mortimore with the reason she had to quit 18 years and 9 months ago. Their illegitimate son, Leslie, is downstairs with a policeman because he drove drunk but wants to meet his father.
Mortimore's wife, Rosemary Mortimore, portrayed by the consummate actress Ellen Phelps, shows up, is not supposed to know about the nurse or Leslie but sympathizes with all the tall tales her husband tells to cover up everything that is going on.
Matron, a terrific foil for all the goings on is perfectly played by Debra Rodkin as she is in and out with the gurney, holds a needle to subdue Leslie who has made his way upstairs to the doctors' room, and she is yelling outside the window that she can't hold on any longer while stopping Leslie from falling, entering or leaving.
Dr. Hubert Bonney, a good friend of Dr. Mortimore, well-portrayed by David Whitlock is also an excellent foil for the shenanigans and agrees to temporarily pretend he is Leslie's father.
Leslie, the misbegotten reason for the action, is done by Declan Poll as a punk-rocker-style teenager who elicits sympathy because he just wants to meet his Dad.
Pompous Sir Willoughby Drake who wants to go over Dr. Mortimore's speech, is well-handled by Ed Kufferft and elicits a fine chuckle when he sees Leslie bending in front of Mortimore.
Dr. Mike Connolly whom we meet early on when he tries on a tutu and other costume items for the Panto is delightfully portrayed by Philip J. Macaluso.
Police Sergeant. Don't most farces need a policeman? Chris Bruzzini takes on that role but he could be played as more befuddled or with more personality than shown.
Scenic designer Eric Luchen makes full use of the small Citadel stage with two hospital-like doors, two regular doors and a window that is just right for some hilarious scenes.
Costume designer Elizabeth Monti had us believing we were in a hospital and Leslie was a nutty punk rocker.
Directed by Pat Murphy, the show is a nice change from the tear inducing Christmas dramas trying to make a statement this time of year.
DETAILS: "It Runs in the Family" is at Citadel Theatre, 300 South Waukegan Rd, Lake Forest, IL., through Dec. 18, 2022. For tickets and more information visit Citadel Theatre. Citadel Theatre or call (847) 735-8554.
Jodie Jacobs
For more shows visit Theatre in Chicago