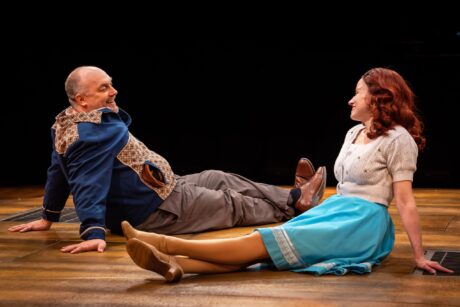 3 Stars
The movie and other plays aside, having just seen Broadway actor Alexander Gemignani (Carousel, Les Miserable, Sweeny Todd) as Edward Bloom at Marriott Theatre, it is now arguably hard to see anyone else playing the pivotal character role in "Big Fish."
 In the hands of Director Henry Godinez, (Goodman Theatre's Resident Artistic Associate), backed by a talented cast, Bloom's seemingly fantastical journey through life is delightful. His character is likely to have audiences relating to dad jokes and dad's experience stories.
 But in the end the theme really is about father-son relationships. The audience is challenged to empathize with his son, Will Bloom, played by Michael Kurowski who appears uncomfortable in the role.
 A shoutout has to go to Heidi Kettenring, a favorite Marriott and Chicago theater community actress/singer, who as Edward's wife, Sandra, has no trouble understanding and appreciating him.
 "Big Fish" is based on Daniel Wallace's 1998 novel and the 2003 (in theaters early 2004) Columbia Motion Picture by John August directed by Tim Burton. The play's book is by John August with music and lyrics by Andrew Lippa.
Details: "Big Fish" is at Marriott Theatre, 10 Marriott Dr., Lincolnshire, IL now through March 19, 2023.  Run time: 2 hours, 30 minutes with one intermission. For information and tickets visit Marriott Theatre.
Jodie Jacobs
For more shows visit Theatre in Chicago