Lolla ticket raffle
Just found out there are a few free Lollapalooza tickets waiting to be won. The Boundary at 1932 W. Division St. and the Old Town Pour House at 1419 N. Wells St. have a raffle going for impossible-to-get tickets to Lolla-land.
The deal is that patrons at either bar who purchase a Red Bull anytime from July 28 through July 30 will be entered into a raffle for a pair of tickets to Lollapalooza, Aug. 5-6, 2017. For more information visit the Boundary  and Old Town Pour House.
Hey Hey!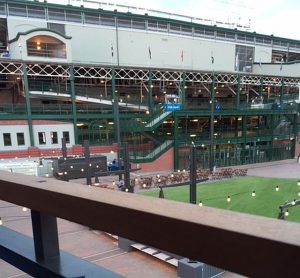 Picture yourself sitting on a deck above The Park at Wrigley, a cold glass of Goose Island Green Line in one hand and a tasty buttermilk fried chicken sandwich in the other. I did that this week after a Cubs game at the just opened Brickhouse Tavern.
I loved the old baseball personality photos and Jack Brickhouse memorabilia around the upstairs bar. I'm also in love with the "Tuna Poke." It was a great starter of diced raw tuna, mango, watermelon and other stuff.
The Brickhouse Tavern is at 3647 N. Clark St. But you can forget the address. Merely look for it at the north end of The Park. For more info visit Brickhouse Tavern.
Writers tell their secrets
If at all interested in penning a book and selling it go over to the American Writers Museum on Michigan Avenue near Lake Street from 6:30 to 8 p.m., July 27, 2017 to hear five writers who know from experience what it takes to succeed.
Sue Baugh will talk about "Five fiction techniques for compelling non-fiction." Cyndee Schaffer will give "Five pointers you need to know about memoir writing"
Barbara Barnett will discuss "Five reasons you need an editor." Reno Lovison offers, "Five important tips related to book marketing." Cynthia Clamitt will cover "Five rules of nonfiction writing."
You might also be inspired by the exhibits in the museum. Enjoy! The American Writers Museum is on the second floor of 180 N. Michigan Ave.