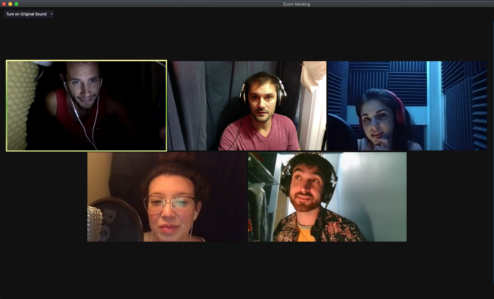 3 Stars
Is it an audiobook? Is it a podcast? Is it a radio show? Maybe yes but then again maybe no. Actually it is Theatre in the Dark's virtual audio drama.  Perhaps it is partially inspired by Orson Welles' memorable 1938 radio broadcast of "A War of the Worlds" based on H.G. Wells' iconic novel about a Martian invasion of the Earth.
Congratulations to this innovative production company whose mission is to create theater performance based on sound and utilization of Internet technology to reach out and engage audiences during these trying times.
This updated 21st century version of "A War of the Worlds" adapted by director Corey Bradberry and Mack Gordon, is set primarily in and around the Chicago area. (Ironically Bradberry and Gordon met at an improv class at Second City which is now up for sale).
The original book was centered in London at the end of the 19th century. Then, the 1938 Mercury Theatre on the Air production was based in mid-twentieth century New Jersey. So with so much global turmoil in 2020, why not project a Midwest interstellar invasion into the mix.
The story itself is not complicated. Basically, it deals with peoples' mostly nonchalant, then chaotic reaction to the presence of an extraterrestrial artifact. First thought to be an asteroid, it turns out to be the beginning of an invasion fleet from Mars.
Theatre in the Dark's production is not about the story, but rather more about the dramatic performance in the telling of the tale which this company does very well.
It's a study in contrast that depicts the laid back lives of many city dwellers who are going about their daily business while the first reports of odd occurrences in the seemingly remote village of Bourbonnais, 55 miles south of Chicago, begin to reach the downtown area.
Tension mounts as complacency leads to panic and then to mayhem.
It is probably safe to say that the majority of today's theater goers have had little or no experience with traditional radio drama. The genre reached its commercial peak sometime in the early 1940's then limped along into the beginning of the 1950's.
Indeed, most of us are children of the television age for whom this style of entertainment is an oddity or curiosity. That makes this presentation much more interesting as it encourages performers and audiences alike to explore a nearly forgotten, or at least, underrepresented art form.
Because the audience, listening at home via Zoom, is using sound only with no visual cues such as facial expressions, gestures, or body language, the actors must be extra creative in the verbal projection of their characters.
This is a chance for them to exercise their emotional muscles audibly in a slightly over-the-top way, even flirting with full-on melodrama. Conversely, the audience is challenged to listen closely for the information needed to paint mental images of the situations and the shifting environment.
The construction of one's mental picture is aided greatly by the sound design offered by Ross Burlingame and Corey Bradberry. They provide continuous, thoughtful, sound effects meshed with an effective, original music score by Ben Zucker.
A major question is why do this live over multiple performances? Tickets are needed for each performance. Why not simply record it?
I imagine part of the answer has to do with the fact that this is a live theater company and that is what they do.
However, one of the unique aspects of this particular production that makes it different from a traditional radio drama is that the actors themselves are not in the same room. They are not necessarily even on the same continent.
Each performer logged in remotely from various locations around the world using their own often makeshift home studios. In this way they are literally pushing the boundaries of what we think of as theater.
What is missing, of course, is the interplay between the audience and the actors. The feedback loop that brings energy to live performance is an element that is difficult to duplicate at a distance.
The freshness of multiple performances will rely on the extent to which the actors innovate and improvise as they discover new opportunities of expression.
But not having been in a theater for over six months, it was exciting to prepare for the eight o'clock "curtain." This was accomplished by setting the lighting and adjusting my laptop and speakers in the living room, ready to provide an optimal listening experience.
Then, it was settling down with a glass of wine in eager anticipation of this unique event.
As a way to celebrate this Halloween season I encourage you to gather your "pod mates" and a few socially distanced friends (wherever they may be) to enjoy this performance online then consider a Zoom call together to  discuss the play or perhaps devise a disaster plan of your own.
Details:  Theatre in the Dark players Mack Gordon, Elizabeth McCoy, Alex Morales, Ming Hudson, Robinson J. Cyprian, and Lauren Ezzo will be performing "A War of the Worlds" through November 21, 2020 via Zoom. Running time is 90 minutes with a 10 minute intermission. For tickets and information visit  Theatreinthedark/tickets.
Reno Lovison
RENOWEB.NET