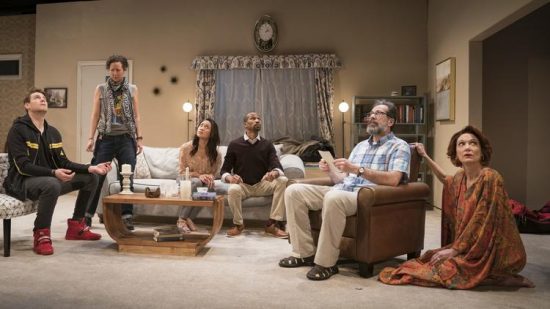 2 1/2 stars
Take a dysfunctional family, yes, another one, add intellectual rhetoric, several different ideas (make them existential, religious, morality bent, etc.) and wrap the action in somewhat comic absurdism and you have "Act (s) of God" by Kareem Bandealy at Lookingglass Theatre.
Given that Lookingglass has afforded ensemble member Bandealy a top notch cast and placed it under the smart direction of Heidi Stillman for what is his debut venture on the other side of a script, we should have a four-star evening.
Instead, we have a mish-mosh of a play, probably two or three plays. It needs reworking and shortening from three to two acts so that even though it might fall in the absurdist category, theater-goers will leave with a sense of the playwright's message.
Except for an overly-long religious ritual, I liked Act One when everyone (but G..D) is introduced. I liked the idea that Eldest daughter Kristina Valada-Viars, an atheist, could open a sealed missive that seemed to have come with ads to the household's mailbox.
When others tried they couldn't open it. When they dropped it, the house experienced a power outage.
Eldest said it was blank but when she loudly told her family to read it, they were able to and found that it announced an unexpected dinner guest the next day.
Not sure why in Act II the guest was supposedly a being who farted a lot in the computer room or why the three children of Mother and Father (no given names) disliked themselves and each other so much even though lots of trite reasons were bandied about along with personal attitudes towards religion and humanity.
Supposedly, an apocalyptic event occurs so that in the third act the furniture is taken from the stage. I liked that it included the comfortable chair in which Father was seated and barely moved from.
Lookingglass does repeat it's productions so maybe we'll see a new, shorter version of Bandealy's play sometime. I'm looking forward to that.
DETAILS:
Act(s) of God" is at Lookingglass Theatre in the Chicago WaterWorks, 821 N. Michigan Ave., through April 7, 2019. Running time: 2 hours, 35 minutes with two intermissions. For tickets and other information call (312) 337-0665 or visit LookingglassTheatre.
Jodie Jacobs
For more shows visit Theatre in Chicago