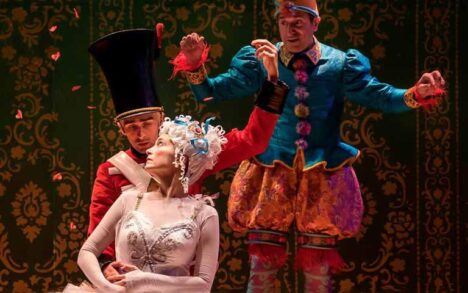 3 stars
"Steadfast Tin Soldier" is reprised for the third year (this year online) by Chicago's Lookingglass Theatre Company.
The plotline devised by nineteenth century Danish storyteller Hans Christian Andersen might be described to a modern audience as Toy Story 1.0.
It is difficult to say when or where the idea of a theatrical performance about the secret life of toys may have begun. There is of course The Nutcracker Suite, another perennial favorite and no doubt others that predate them both.
In this toybox tale a damaged tin soldier falls in love with a beautiful dollhouse ballerina who is already evidently in a relationship with the somewhat hideous jack-in-the-box.
An unfortunate turn of events sends our soldier hero on an odyssey that separates the lovers until their surprising reunion with a shocking twist.
This version written and directed by Mary Zimmerman presented as a pantomime, has no dialog, relying heavily on the physicality of the actors to tell the story.
The five person cast features Lookingglass Ensemble Members Kasey Foster (Ballerina) and Anthony Irons (Goblin), with Joe Dempsey (Nursemaid), John Gregorio (Rat), and Alex Stein (Steadfast Tin Soldier). In addition to their primary roles each member plays a variety of subordinate roles as well.
Joe Dempsey and John Gregorio are responsible for much of the comedic action with the highlight being a romantic encounter between a Fish Monger and the Nursemaid.
Foster and Irons perform an amusing, slow-motion skirmish as two boys who tussle over the found toy soldier with choreography by Tracy Walsh.
The evocative original music score composed by Andre Pluess and Amanda Dehnert is skillfully executed by Leandro López Várady (Music Director/Piano), Greg Hirte (Violin), Juan Horie (Cello), and Constance Volk (Flutes) in a post-modern genre with jazz elements. The effect is reminiscent of a silent movie with the music setting the tempo of the action and providing emotional accents.
There are no songs per se but rather a series of instrumental vignettes and therefore no lyrics except for the finale number that sort of sums up the moral of the story for those who might be a bit confounded by the various goings on.
My first impulse is to say that this is a non-traditional performance but then I realize that is only true in a modern sense. Actually this production is full of ancient stage craft borrowed from a number of traditions.
There is of course pantomime, music, puppetry large and small designed by Chicago Puppet Studio, circus choreography by Sylvia Hernandez-DiStasi, and body movement that can certainly be included in the realm of dance, though this is not a ballet to be sure.
Virtually any person from essentially any language group or culture would be able to understand the essence of this story that portrays basic archetypes experiencing universal human relationships.
Costume designer Ana Kuzmanic along with her team provide a kaleidoscope of color and bold fabrics that would rival a Venetian masquerade. Dramatic oversized hats and body silhouettes give the production a kind of Alice in Wonderland feel that accentuates the fantasy.
A two legged deer in fancy dress offers a dreamlike effect with a touch of absurd elegance. The giant baby head and hands, big eyeball peeping inside the dollhouse and anthropomorphized rat, all contribute to the phantasmagorical quality that borders on a nightmare or at least an oversized children's book.
As a kind of caution, it is fair to say that by some modern standards the characters of the steadfast soldier and ballerina might be regarded as predictable and cliché so should be considered within the context of the time in which they were written.
It is also important to remember that Anderson like the Brothers Grimm did not avoid tough subjects that warned of the harshness and unfairness of life. After all Anderson wrote of a ballerina whose feet are cut off to break a dancing spell and a little match girl who ironically dies in the cold.
At a time when we are all challenged by outside forces, when little boys are taught that they do not always have to be "good soldiers" and little girls can be something other than ballerinas, this could be a good catalyst for discussion about gender roles and in the age of COVID, how each of us deal with adversity and even death.
The entire performance is notably only one hour long which combined with the amusing storyline and delightful theatrics makes this an ideal first experience for younger or otherwise uninitiated theater goers.
I am sure it was originally conceived to capture the attention of Michigan Avenue shoppers who would be happy to have a short respite to round off their holiday excursion before returning home.
However, I think it is fair to say that though an entertaining visual spectacle, this is not exactly a feel good holiday story.
Parents who bring children with curious minds should be prepared for some difficult questions relating to the fate of the main characters.  I would not recommend this for children under twelve.
The production holds up well as an Internet presentation though I suggest trying to get it displayed on the largest screen possible, and perhaps most importantly, with the best sound system you have available. Both of these factors are likely to enhance your enjoyment especially if you are viewing it with other people.
I briefly previewed the performance on my desktop with a 19" monitor and some decent speakers but watched the entire production via Roku using the Stellar app on a 32" TV (sitting pretty close) with headphones that provided exceptional sound. This proved to be quite an effective experience.
If you have a large screen TV 50" or more with a good sound-bar or speakers I think you will be quite pleased when viewing this via the Stellar app with multiple people.
The Steadfast Tin Soldier runs 1 hour with no intermission through December 27, 2020 online. The production will stream through Stellar which manages ticket validation and program delivery. Tickets and information is available at lookingglasstheatre.org
For more shows visit Theatre in Chicago.
—
Reviewer Reno Lovison is maintaining social distance and enjoying the intersection of theater and technology.