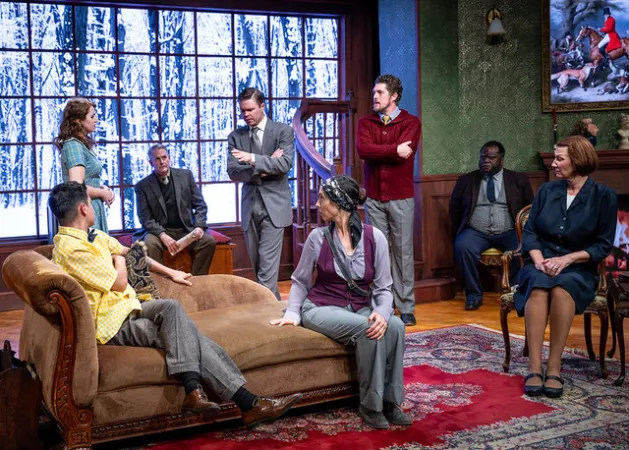 Recommended
If you have seen "The Mousetrap," Agatha Christie's 1952 murder mystery that is still alive on stage in London, don't give away the "who done-it" part.
 With a reasonable run time of 2 hours, 20 minutes that includes a 15-minute intermission, the first act ends the play with you likely wondering, who is the next murder victim.
Directed by Scott Westerman who brilliantly presented Citadel's award-winning "The Chrisians," he has staged "Moustrap similar to a farce with characters moving in and out of doorways then appearing elsewhere.
 As to the cast, they are mostly projected as somewhat overblown stereotypical characters that fit the "farce" slant.
So ask yourself who are these people, really? All the audience knows is that they are guests in the newly opened Monkswell Manor operated by newlyweds Mollie Ralston (Mary Margaret McCormack) and husband Giles (Jack Sharkey).
Next on the scene is a young, overly hyper lad named for architect Christopher Wren played by Jesus Barajas.
He is followed by Kristie Berger as the old maidish, times-have-changed Mrs. Boyle and William Ryder as  the pleasant Major Metcalf.
Into the mix is Amy Stricker as Miss Casewell will drops hints that she had a difficult childhood.
The seemingly strangest character is Mr. Paravicini portrayed by Reginald Hemphill as an uninvited guest. He seems inordinately pleased with the guests' makeup.
Last on stage is Detective Sergeant Trotter. Played by Sean Erik Wesslund, he first appears in the Inn's big window on skis because the house is cut off by a persistent snowstorm.
Speaking of snow, the video created by cinematographer Ian Merritt adds drama to the show as does a strange mirror and other special effects.
So, don't misread Westerman's farcical handling of "Mousetrap." Christie and Westerman are "dead" serious about the plot.
It supposedly was inspired by a real case about gravely mistreated children. It may lead some viewers to consider a case now in the news and the Illinois legal system.
 Originally called "Three Blind Mice," the nursery rhyme's song is played in the background and thus raising the questions who are the mice and is the inn acting as a mousetrap?
DETAILS:  Mousetrap is Sept. 15-Oct. 15 at Citadel Theatre Company, 300 S. Waukegan Rd., Lake Forest, IL. For tickets and information call (847) 735-8554, x1, or visit Citadel Theatre.
Jodie Jacobs
For more shows visit  Theatre in Chicago