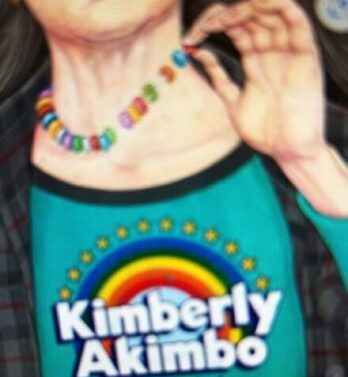 Watching the American Theatre Wing's Tony Awards was refreshing Sunday night
We didn't have hosts trying to be funny or clever. And whether our idea of who should win actually took home the Tony, we got to see some excellent Broadway performances.
In case you missed the show here are the Tony winners:
Best Play – Leopoldstadt plus Best Actor in a Featured Role in a Play, Brandon Uranowitz, Best Director of a Play Patrick Marber and Best Costume Design of a Play Brigette Reiffensteul in a 50-year-long family saga of love, faith, identity by Tom Stoppard. If you get to NY this June try to see it at the Longacre Theatre before it leaves July, 2, 2023.
Best Musical – Kimberly Akimbo by multi award winners David Lindsay Abaire and Jeanine Tesori  is among the show's five Tony Awards. The show also won awards for Best Book of a Musical (Abaire), Best Original Score, Best Actress in a Musical (Victoria Clark) and Best Actress in a Featured Role in a Musical, Bonnie Milligan. The theme is a very different teenager tale about struggles that range from family secrets to her own disease of rapid physical aging.
Best Revival of a Play – Top Dog-Underdog by Pulitzer Prize winner Susan Lori-Parks that is a dark comedy of two brothers back on Broadway for its 20th anniversary.
Best Revival of a Musical – Parade, a Jason Robert Brown and Alfred Uhry musical about a dramatic, true, grave injustice in Georgia.
Best Actor in a Leading Role – Sean Hayes for Good Night, Oscar, by Doug Wright about troubled entertainer Oscar Levant. The show with Sean Hayes in the starring role came from Goodman Theatre in Chicago where it was a sell-out hit.
Best Actress in a Leading Role – Jodie Comer as Tessa in  Prima Facie by Suzie Miller about a young, brilliant barrister facing a moral conflict. A short Broadway run, the show opened in April at the John Golden theatre but closes July 2, 2023.
Best Actor in a Leading Role in a Musical – J. Harrison Ghee for Some Like It Hot. Yes, it's the old story of two musicians (played by Tony Curtis and Jack Lemmon in the 1959 Billy Wilder/IAL Diamond film) who are fleeing the Chicago mob by train during Prohibition. The current show's Book is by Matthew Lopez and Amber Ruffin with Music by Marc Shaiman and Lyrics by Scott Wittman and Marc Shaiman. It has an open run at the Shubert Theatre.
For Best Actress in a Musical see Kimberly Akimbo/Victoria Clark above.
Best Actress in a Leading Role in a Play – Miriam Silverman in The Sign in Sidney Brustein's Window which takes place in  Sidney and Iris Brustein's Greenwich Village apartment where ideals sardonically clash with reality in the 1960s.
Best performance by an Actor in a Featured Role in a Musical -Alex Newell for Shucked, a show with the unlikely theme of mixing a NYC comedy writer with two Nashville stars.
Best performance by an Actress in a Featured role in a Musical – Bonne Milligan see Kimberly Akimbo above.
For more Tony categories and winners visit Tony Awards.
Jodie Jacobs