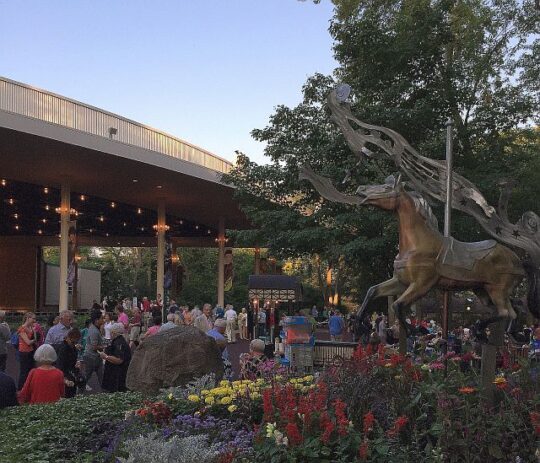 To keep the music going Ravinia Festival has been broadcasting excellent concerts on Friday nights. However, the one coming up is particularly special given that the artist, pianist Leon Fleisher, won't be heard live again. Fleisher died at age 92 on Aug. 2, 2020.
In a tribute to Fleisher, Ravinia Festival will do a broadcast of a past concert, Sept. 21, 8 p.m.  CT on WFMT.
The program will bring back the "Leon Fleisher and Friends" program that celebrated his 90th birthda, performed and recorded July 23, 2018 in Ravinia's Martin Theatre.
"Leon Fleisher was a great artist. His integrity and commitment to truth, his unerring sense of proportion, his larger-than-life persona, the sheer beauty of his sound, and the power of conviction in his playing were unparalleled and mesmerizing," said Miriam Fried, director of the Ravinia's Steans Music Institute (RSMI) Program for Piano & Strings. Fleisher had been a program faculty member for 24 summers.
The birthday concert features Fleisher's playing "Sheep May Safely Graze" from Bach's "Birthday" Cantata No. 208 and Kirchner's "For the Left Hand" written for Fleisher in 1995.
It also includes his wife, pianist Katherine Jacobson Fleisher, joining him in the four-hands piece of Schubert's Fantasy D. 940 and Ravel's La Valse.
In addition, the Argus Quartet and bassist Kit Polen perform alongside Fleisher in an arrangement of Mozart's Piano Concerto No. 12, K. 385p. The Argus Quartet was in residence at RSMI in 2017 and had won the M-Prize and Victor Elmaleh competitions later that  year.
WFMT can be found at 98.7 FM and online at wfmt.com/listen,