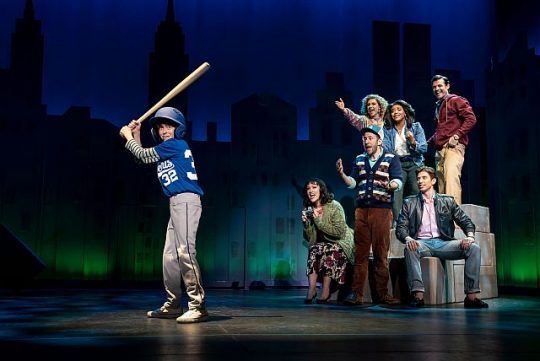 4 stars
In 2017 when "Falsettos" returned to Broadway, it was nominated for five Tony Awards, including the Best Revival of a Musical.  Now two years later, this fabulous musical is in Chicago, directed by playwright James Lapine with music and lyrics by William Finn.
Taking place in New York in the 1970s, we meet a charming, neurotic gay man, Marvin, played by Max Von Essen; along with his 10-year-old son, Jason, played by Thatcher Jacobs.
We also meet psychiatrist, Mendel (Nick Blaemire) and Marvin's wife Trina (Eden Espinosa)whom he leaves for his lover, Whizzer (Nick Adams).
"Falsettos" second act introduces two lesbian neighbors of Marvin's, Dr. Charlotte (Bryonha Marie Parham) and Cordelia (Audrey Cardwell).
Performed by phenomenal voices, "Falsettos' " wonderful songs tell the story throughout the show.