Whether you love classical, pop, rock or just enjoy listening to music while picnicking, Ravinia Festival in suburban Highland Park ends the summer on a high note.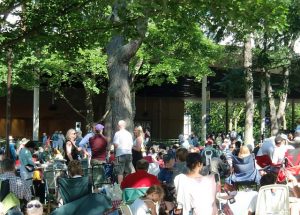 Dolly Parton is sold out Sunday, Aug. 7 but tickets are still available for Tony Bennett Saturday, Aug. 13. However, his concert sold out last year so if interested contact Ravinia as soon as possible.
In the classical genre, violinist Josh Bell and trumpeter Chris Botti perform with George Hanson conducting the CSO Friday, Aug. 12. Bell will be playing Vivaldi's Violin Concerto in E Major (spring)  and the Concerto in G Minor (Summer) from The Four Seasons. Botti's program will be announced that night.
Violinist Itzhak Perlman performs with the CSO in an all-Beethoven program Saturday, Aug. 20, Bramwell Tovey, conducting. On the program is the Violin concerto in D Mayor and Symphony No. 7 in A Major
For classical programs coming sooner scroll down on  Classical concert packed Ravinia.
Perfect for a picnic is "You're the Top!: Cole Porter's 125th Birthday Celebration" Wednesday, Aug. 17. David Alan Miller conducts the CSO with special guests vocalists Sylvia McNair, Klea Blackhurst and Ryan VanDenBloom. Pianist and vocalist Kevin Cole is the host.
Details: Ravinia Festival is at 200 Ravinia Rd., Highland Park, IL 60035. For tickets and other information call (847) 266-5100 and visit Ravinia