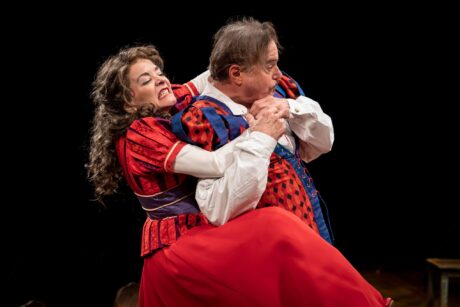 Three stars
In a season overflowing with feel-good holiday fare, the Marriott Theatre in Lincolnshire has chosen to balance the offerings with the controversial "Kiss Me Kate."
Go for this production's superb vocals, comedic moments and excellent dance numbers. But beware, the 1948 musical written by Bella and Samuel Spewack with music and lyrics by Cole Porter, is based on William Shakespeare's "The Taming of the Shrew."
What you see is a show within a show presented by a traveling troupe as its stars battle on stage and off in a mirror image of the plot.
No matter how good the production is of the Shakespearean version (and I have seen good ones, including at Chicago Shakespeare), it still is misogynistic.
So, if bothered by the theme, blame Shakespeare.
If out for a night at the theater, sit back and enjoy director Johanna McKenzie Miller's clever staging, Alex Sanchez's choreography and the outstanding voices of Susan Moniz as leading lady Lilli Vanessi who plays Katharine (supposedly as a shrew) and Larry Adams, Lilli"s ex-husband, Fred Graham, who plays Petruchio (shrew tamer) and who is also directing the troupe.
Also dance shout-outs to Alexandra Palkovic who is Lois Lane, Kate's overly-sweet little sister, Bianca, and to Jonathan Butler-Duplessis who leads the showstopping "Too Darn Hot" number.
You get to hear such familiar songs as "Wunderbar," So in Love," "Always True to You in My Fashion," and "From this Moment On." To audiences who have missed the theater due to COVID, the opening number "Another Op'nin', Another Show," offers a hopeful note.
DETAILS: "Kiss Me Kate" at Marriott Lincolnshire Theatre, 10 Marriott Dr., Lincolnshire, is on now through Jan 16, 2022. Run time:  2 hours and 30 minutes, with a 15-minute intermission. For tickets and more information visit Marriott Theare.  (Check Covid safety protocols.)
Jodie Jacobs
For more shows visit Theatre in Chicago