RECOMMENDED
Take the creative minds of children and a Scottish playwright who wants to change from churning out formula plays for the London stage to recapturing his youthful imagination in order to write an amazing play, and you will understand 'Finding Neverland.'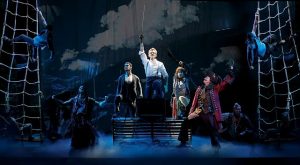 A touring Broadway musical in Chicago now through Dec. 4, 2016, the production reveals how J.M. Barrie came up with his world-famous, beloved 'Peter Pan' stories.
Based somewhat on a 2004 movie starring Johnny Depp, the musical starts with Barrie (Kevin Kern) searching for material for his next play when he meets the Llewlyn Davies youngsters  George, Michael, Peter and Jack (recognize the names?), and their mother, Sylvia. They all frequent Kensington Gardens near his home.
Elements of what would first be 'The Little White Bird,' then become 'Peter Pan: The Boy Who Wouldn't Grow Up' were developed watching and interacting with the Davies boys in their let's-pretend games.
The show is a romp through overly exaggerated mannerisms of London's high-society and acting community but tinged with the sadness of parental death.
Fact check: In 'Finding Neverland,' Sylvia's husband has already died. In real life he was still alive when Barrie first met the family but she would become a widow.
Sylvia, beautifully portrayed by Christine Dwyer, becomes ill and dies at the musical's end. She leaves by going out the nursery window with Peter Pan (Dee Tomasetta).
Two of the best scenes are when Barrie's creation, Captain James Hook (Tom Hewitt, Cameron Bond) and his pirates, urge the playwright to trust his imagination, finish the play and include them in it.
They do so in a fabulous swirl of color, storm and music produced by composer/lyricists Gary Barlow and Eliot Kennedy, scenic design by Scott Pask, projection design by Jon Driscoll and choreographed by Mia Michaels.
Some of Michaels' other choreographed movements could be taken down a couple of notches including her jarring interpretation of time weighing heavily on Barrie. He has to quickly finish a new play for his American producer, Charles Frohman (Tom Hewitt)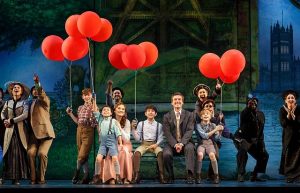 What children in the audience will love are the antics and heart-felt moments of George (Finn Faulconer, Ben Krieger and Eli Tokash), Michael (Jordan Cole and Mitchell Wray), Peter (Ben Krieger, Eli Tokash and Mitchell Wray ) and Jack (Tyler Patrick Hennessy, Eli Tokash and Mitchell Wray).
A telling point in the musical are the guests at a dinner party hosted by Barrie's wife, Mary, a former actress who prefers society's company.
Barrie has invited Sylvia and her boys who, of course, provide comic relief. Also at the dinner is Lord Cannan who appears later in a tryst with Mary. Fact check: Mary did have an affair with Gilbert Cannan whom she later married.
Oh, and to find "Neverland," look at the stars. As Peter tells Wendy it's "second star to the right and straight on til' morning."
Details: "Finding Neverland' is at Cadillac Palace Theatre, 151 W. Randolph St., Chicago, IL now through Dec. 4, 2016. For tickets and more information call (800) 775-2000 and visit Broadway in Chicago.