HIGHLY RECOMMENDED
If lucky enough to still snag a ticket to the Lyric Opera's 'Les Troyens' (The Trojans), Hector Berlioz' grand opera tribute to Virgil's Aeneid, don't worry about its length.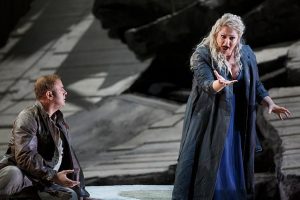 Berlioz's music, grandly interpreted by Lyric Music Director Sir Andrew Davis, sweeps through the Lyric's hall like a waterfall that fascinates and pulsates with danger.
Add to that, the incredible vocals by Christine Goerke as Trojan Princess Cassandra, Susan Graham as Carthage Queen Dido, Brandon Jovanovich as Trojan hero Aeneas (Énée) and Lucas Meachem as Cassandra's lover, Chorebus, and the opera has transcended from a good experience to become a once-in-a-lifetime event.
A new production directed by Tim Albery, the Lyric presents the story of Troy's fall and a rebuilt Carthage that becomes a refuge for Troyen escapees. The story plays out against a clean, modern design by set and costume designer Tobias Hoheisel.
Remember, walls were often built around ancient cities to protect them from frequent attacks. Troy's circular wall is presented in ruins. Carthage's wall has been rebuilt. Both are creatively set on a turntable that offers different perspectives. Shadows and videos cleverly add important scenic elements.
Berlioz's opera, written 1856 to 1858, is in two parts: La prise de Troie  (the capture of Troy) and Les Troyens à Carthage (The Troyens at Carthage). The second half was mounted first in 1863 with cuts. The whole opera didn't premiere in Europe until 1890.
Since then, American opera companies have only done it in its entirety a few times but Graham is an experienced Dido. She performed in the role in the Met production in 2012-13 and again when the San Francisco Opera did it a London's royal Opera House in Covent Garden in 2015.
Very briefly, the opera starts with Cassandra's warnings that the Greeks are not through attacking Troy. No one believes her but tension builds after a foreboding shadow of the Trojan horse bearing Greek soldiers, pass the ruined walls.
In Act II, Cassandra and women villagers commit suicide rather than be taken as slaves. Troy is destroyed but after some heroic deeds, Aeneas and some Troyens escape. Aeneas was told he needed to leave to start a new Troy in Italy. It was to become Rome.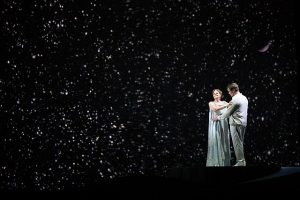 The next act opens in Carthage with Dido praising her subjects for rebuilding the city and its wall. She then accepts Aeneas and his fellow refugees on a temporary basis.
When she learns that her enemy, Iarbas and his soldiers, are attacking, Aeneas reveals who he is and that his group will help her defeat Iarbas.
Her sister, Anna, well sung by Okka Von Der Damerau, can tell Dido is falling in love with Aeneas and that it is OK.
Act IV features a beautiful instrumental hunt and storm scene where Dido and Aeneas move out of view, supposedly to a cave, while naids, fauns, sylvans and satyrs dance out an erotic pantomime in front of a waterfall. Videos change the scene to a raging storm that then subsides as Dido and Aeneas reappear to walk through gardens.
The second part has Anna and Narbal (Christian Van Horn), Dido's minister talking about romance and duties. Narbal is worried that Dido's love is distracting her from Carthage operations.
To celebrate victory over Iarbas, there is a ballet and poet Iopas (Mingjie Lei) sings. Dido, though, is distracted. The act ends with a warning to Aeneas to go to Italy.
In the final act, divided into three parts, Aeneas doesn't want to go but realizes he must. Dido feels betrayed and burns the treasures he had brought. She calls on the gods for revenge, has a foreboding that it will be through Hannibal. And she kills herself.
It helps to know the story and the libretto, done in French, is translated. But this is an opera that has often been sung in concert. So when sitting at the lyric production, feel free to close your eyes and just listen to the glorious voices and orchestra.
Details: ' 'LES TROYENS' ('THE TROJANS') is at the Lyric Opera's Civic Opera House, 20 N. Wacker Drive, Chicago, IL through Dec. 3, 2016. Running time is about five hours with two intermissions. For tickets and other information call (312) 827-5600 and visit Lyric Opera.