SOMEWHAT RECOMMENDED
As  PigPen Theatre Co.'s 'The Hunter and The Bear' plays out at Writers Theatre you think you are watching a ghost story take shape. That is until the end when it becomes a dark folk story.
It begins innocently enough with a company of loggers setting up camp and choosing their trees to cut in North America's northwest Cascade Range.
Their hunter, Tobias (Ben Ferguson), is out looking for bear and provisions while his young son, Elliot (puppet handled and voiced by  Ryan Melia), participates in drinking and conversation with loggers Prescott (Alex Falberg), Pete (Curti Gillen), Bailey (Matt Nuernberger) and John (Ayre Shahi).
When they go off, Lewis who says he's a salesman and traveler (Dan Weschler) enters. He starts to tell Elliot a ghost story about the Smoke Girl who haunts the woods where she died in a horrific fire. As the play continues, it turns out that the woods, themselves, can become a hot smoky, ghostly force.
Then, a bear that ate the loggers' mules is killed, but Tobias insists there is a larger, more menacing bear still to be brought down.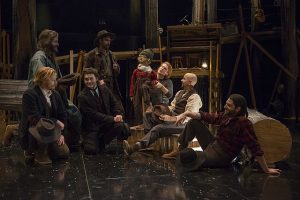 When Lewis insists that the supposedly dangerous, ghost bear was not in the woods until the logging company came, the loggers start to accuse each other of horrible deeds.
Although the acting has been basically fine, there is an overabundance of echoing, "mic" voices in this scene.
However, the real tale sort of comes out afterwards. But therein lies a problem some audiences may have with the play. A main character's background is not explained enough or sufficiently developed to justify the outcome.
The monstrous ghost bear sought during the whole show is not explained by a past deed, as Lewis suggested, but could have related to a current awful circumstance. The bear becomes more ghostly symbolic than composed of earthly flesh and fur.
The folk story does not end well even with Lewis' final thought that instead of us helping ghosts find their path, the ghosts help the living.
Co-Directed by Stuart Carden and the PigPen Theatre Company, 'The Hunter and The Bear' is beautifully staged with fine atmospheric music accompaniment.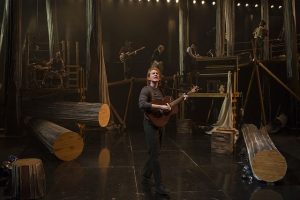 Scenic designer Collette Pollard and Costume and Puppetry Designer Lydia Fine have nailed the woods and their ghostly occupants.
Audiences will also appreciate PigPen's folk music. The group is a talented band with albums and concert engagements.
PigPen is the same creative company that did "The Old Man and The Old Moon" at Writers Theatre in 2013.
Details: 'The Hunter and the Bear' is at Writers theatre, 325 Tudor Court, Glencoe, IL 60022, now through Jan. 22, 2017. For tickets and other information visit Writers Theatre. PigPen will also do a concert at the Old Town School of Folk Music, Dec. 19, 2016. For tickets and information visit OTS. More info at PigPen.