SOMEWHAT RECOMMENDED
There are two ways to consider Lyric's 'Magic Flute' production. On one hand it will likely appeal to youngsters though they will have to sit for three hours and 20 minutes (intermission comes about an hour and 15 minutes into the opera).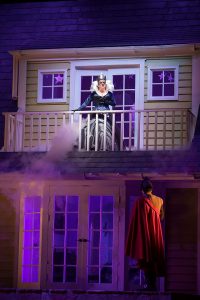 It is set mid-last century in a Chicago suburban home where family and friends put on Wolfgang Amadeus Mozart's operatic fairy tale. It revolves (literally, because there is a turntable set) around the Queen of the Night asking Prince Tamino to rescue daughter Pamina from Sarastro, a high priest.
Youngsters in the audience would enjoy how when Tamino plays a magic flute given to him by the Queen of the Night's ladies-in-waiting, animals of all kinds prance across the stage. Of course, they are neighborhood children in cute costumes.
Young audiences would also like the way Tamino's companion, the queen's bird catcher, Papageno turn the henchmen of the nasty Monostatos who took on the abduction for Sarastro, into silly dancers. He did so by playing bells also given by the ladies-in-waiting.
On the other hand, adults who are traditionalists might be unhappy.  By turning the opera into a play within a show, the production has kept its comic aspects but moved away from its mysterious, mythical qualities.
The house where the play takes place is on a turntable so the front of the house becomes Sarastro's temple. By placing the temple, its priests and its mysterious doings and precepts into a suburban house, the setting arguably would make the organization or order more palatable to young audiences.
Tamino has to enter Sarastro's order and take on the trials of initiation to  win Pamina. Papageno faces the trials because he wants a sweetheart.
But by making the order and its temple more ordinary or acceptable by placing it in a neighborhood house takes away a wonderful staging opportunity to make the temple mysterious in a fairy tale setting.
Either way, today's audiences will likely appreciate the opera's precepts of peace, justice and compassion though they will object, and did so at a recent performance, to Sarastro's comments about women needing men to guide them.
What makes the Lyric's production worthwhile is Mozart's glorious music beautifully conducted by Rory Macdonald and sung by tenor Andrew Staples as Tamino, (tenor Matthew Polenzani, Jan, 12-27, 2017) and the exceptional singing of  coloratura soprano Kathryn Lewek as Queen of the Night.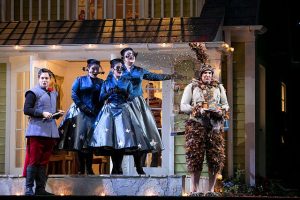 Lewek has the very difficult arias of "O zittre nicht  mein lieber sohn"  (O, tremble not my son) in Act 1 and the famed "Der Holle Rache Kocht in Menem Herzen" (Hell's vengeance boils in my heart) in Act 2.
She has developed quite a reputation for the challenging Queen of the Night role which she sung with several companies including the Washington National Opera and the Metropolitan Opera.
Adam Plachetka is an endearing Papageno and Christane Karg is a sweet Pamina.  German bass Christof Fischesser is perfect as Sarastro. Ann Toomey, Annie Rosen and Lauren Decker are terrific as the ladies-in-waiting.
A little background may help understand what appears to be Masonic references and the Enlightenment Movement signs nailed to the front of the suburban house.
Even though The Magic Flute is a fairy tale constructed with different mythological story points by Mozart and his friend, Emanuel Schikaneder who wrote the libretto, they were both Masons and influenced by Europe's Enlightenment Movement which promoted reason and religious tolerance.
The Queen of the Night is thought by some analysts as representing the exact opposite of tolerance and possibly an 18th century Roman Catholic point of view that was anti Masons.
Although the Lyric's Magic Flute, a "singspiel" (speaking and singing) opera, is set in a Chicago suburb, it is in German with English subtitles.
Details: The Magic Flute is at the Lyric Opera of Chicago now through Jan. 27, 2017. The Lyric is in the Civic Opera Building, 20 N. Upper Wacker Drive, Chicago, IL 60606. For tickets and other information visit Lyric Opera and call (312) 827-5600.