RECOMMENDED
Ladies in sparkly gowns and men in tuxes croon such  tunes as "Satin Doll," "Prelude to a Kiss" and "In My Solitude" in "Duke Ellington's Greatest Hits," a Music Theater Works production.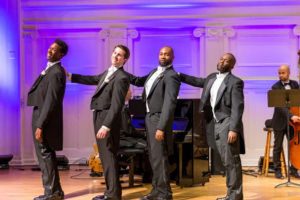 The show includes songs popularized, written or arranged by one of the greatest jazz musicians of the 20th Century. Ellington defined sophisticated elegance and cool.
The performers have fun with the exotic melodies of "Caravan" and "Perdido," and pick-up the rhythm with jazz classics "Take the A Train," "Sophisticated Lady," and "It Don't Mean a Thing," as well as the sultry "Mood Indigo."
Singers Justin Adair, Dawn Bless, Jar'Davion Brown, Caitlyn Glennon, Amanda Horvath, Evan Tyrone Martin, and Martin L. Woods move seamlessly from song to song delivering a steady stream of familiar hits.
Adair who performed Older Patrick in Music Theater Works' recent production of "Mame," surprised the audience by accompanying the ensemble on the guitar playing "In a Mellow Tone," showing yet another of his many talents.
The three piece band with Christian Dillingham (bass) and Phillip Fornett (drums) is energetically directed by Joey Zymonas (piano).
This is an entertaining 90 minutes or so that celebrates the legacy of this great composer and entertainer but "Ain't got" enough "swing."
DETAILS: "Duke Ellington's Greatest Hits" is at Music Theater Works (formerly Light Opera Works) at Nichols Concert Hall, 1490 Chicago Ave., Evanston, through Oct. 15, 2017.  For tickets and other information call (847) 920-5360 and visit MusicTheaterWorks.
Reno Lovison
(Guest reviewer Reno Lovison is married to pianist Julie Lovison who is proud to say she kissed Duke Ellington on the cheek after one of his performances.)