HIGHLY RECOMMENDED
Bitterness, love, seduction, revenge and sorrow seldom have sounded so magnificent as they did Saturday during Lyric Opera's opening night of "Rigoletto."
With baritone Quinn Kelsey as jester Rigoletto, tenor Matthew Polenzani as Duke of Mantua and soprano Rosa Feola as Rigoletto's daughter, Gilda, the only thing that could match the memorable experience is to have a recording to play their performances over and over.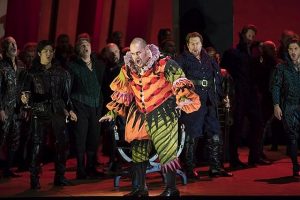 However, opening night, Oct. 7, was on radio (for anyone to record) and there still are seven more performances through Nov. 3, 2017.
The opening night audience didn't wait for the famed "La donna è mobile" sung by the Duke or the beautiful "Caro nome" by Gilda to yell an emphatic "Bravo." Enthusiastic applause  followed all  arias of these virtuoso performers and at the quartet near the end.
Written by Giuseppe Verdi in the mid 1800's, "Rigoletto's' music and drama has been appealing to opera lovers since its premiere in Venice in 1851. Melodrama might be a better description but then, many operatic themes fit that category.
To quickly recap, Rigoletto, with a libretto by Francesco Mavia Piave, is based on Victor Hugo's somewhat scandalous  "Le roi s'amuse." Verdi substituted a licentious duke for the king.
The character Rigoletto is a bitter, hunchbacked jester who dislikes his position, makes fun of the Duke's courtiers he is supposed to entertain and is disliked in return.
His only love is for his daughter, Gilda whom he tries to keep from harm by not allowing her out except for church. Because she had fallen in love with the Duke when seeing him stare at her in church, she is happy he comes to the house where her father has been keeping her.
Gilda is abducted by the couriers who mistakenly believe she is Rigoletto's mistress and she is brought to the court where it is assumed the Duke ravishes her.
Her distraught father plots revenge using Sparafucile (Alexander Tsymbalyuk), an assassin he met earlier. Gilda who is supposed to dress like a boy and meet up with her father in Verona, overhears the assassin's plan to stab the Duke.
Even though she felt betrayed by the Duke who fell for the assassin's seductive sister, Maddalena (Zanda Svede), Gilda still loved him and deliberately stepped into Sparafucile's house to be murdered instead. She had heard Sparafucile agree to kill the next person who walked in because he needed a body and Maddalena had pleaded for the Duke's life.
The tragedy is blamed on a curse by Count Monterone (Todd Thomas) who had cursed the Duke and Rigoletto after his own daughter had been seduced by the Duke, encouraged by Rigoletto.
Directed by E. Loren Meeker, conducted by Mario Armiliato with stylisticly simple but dramatic back  drops by Michael Yeargan, this new-to Lyric production should match opera aficionados' expectations and attract new opera goers.
DETAILS: "Rigoletto" is at the Lyric Opera House (also called the Civic Opera House), 20 N. Wacker Dr., Chicago, now through Nov. 3, 2017. Running time is 2 hours, 33 minutes including one intermission. For tickets and more information call (312) 827.-5600 and visit Lyric Opera Rigoletto. For Lyric season visit Lyric.