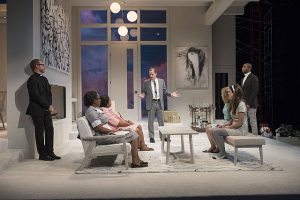 Twenty-three year old Joanna "Joey" Drayton (Bryce Gangel) returns home from an extended absence anxious to share the news with her parents that she has found the love of her life, and that the two are planning to marry.
The couple's news will test everyone's commitment to their own values, revealing their previously acknowledged and unacknowledged prejudices.
The year is 1967, the height of the civil rights era. The Draytons are best described as an affluent liberal white family. Joey's new boyfriend, Dr. John Prentice (Michael Aaron Pogue), is black.
Dad, Matt Drayton (Tim Hopper) is the publisher of a progressive newspaper while mom, Christina (Mary Beth Fisher) is the owner of an upscale art gallery.
Joey has secretly decided to surprise everyone by inviting the Dr. Prentice's mother and father (Jacqueline Williams and Dexter Zollicoffer) to a family dinner that includes her dad's close friend, Monsignor Ryan (Dan Waller).
The meal will be prepared by the Drayton's long-time African-American domestic helper, Matilda "Tillie" Binks (Sydney Charles). Both the Monsignor and Tillie are considered to be a part of the Drayton's extended family.
However, Christina's assistant, Hilary St. George (Rachel Sledd), catches wind of the relationship and immediately goes into action to avoid what she perceives to be a potential scandal that might be bad for business as well as the Draytons' social standing
"Guess Who's Coming to Dinner" at the Court Theatre by Todd Kreidler is based on the screenplay by William Rose for the movie of the same title.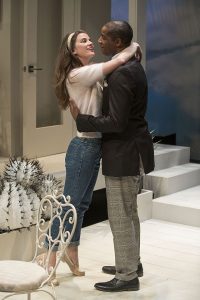 The movie version featuring Spencer Tracy, Katherine Hepburn and Sidney Poitier, was a turning point in "race relations" in the late 1960s. Tracy's final soliloquy is often excerpted as an example of racial tolerance as well as an example of fine acting.
In short these current actors have big shoes to fill, ultimately doing a really fine job of finding their own voice and putting their own interpretation on each of their roles.
This production is expertly directed by Marti Lyons who keeps the pace lively and helps the actors adeptly avoid the challenges related to performing this iconic material.
This is a perfect ensemble in which there is no need to draw attention to any one actor except to say that the roles of Tillie and Monsignor Ryan bring much appreciated, occasional comic relief which each of the respective performers do without distracting from the essence of the story-line.
Likewise Bryce Gangel as the ingénue character at the center of the storm perfectly presented bright eyed optimism and youthful exuberance tempered with an undeniable realism.
The monochromatic set by Scott Davis includes white cacti on the patio and unornamented, mid-century furnishings with avant-garde artwork prepared by scenic artists Scott Gerwitz and Julie Ruscitti.
The black and white palette  reminds us that we are literally dealing with a black and white issue that have shades of gray with only occasional hopeful bursts of color.
Costume Designer (Samantha Jones) whom I remember from The Court Theatre's "Belle of Amherst," really knows how to make exceptional clothing for her women that complements the production.
In this case the colorful artistic outfit for Hilary St. George who appears at the very beginning of the play immediately helps to set the time period and give us some insight into the flamboyant aspect of the character. Christina Drayton's dinner outfit with shawl is the perfect at-home informal hostess attire, and Joey's simple cocktail dress with gray tights is exquisitely tailored with a sixties vibe. Both used tone-on-tone fabrics that stay in the monochromatic color range without being simply black and white.
It was fun to be a part of this mixed age group audience for this particular play in the center of Hyde Park, long recognized as a liberal multi-racial and multi-cultural community. The laughs and gasps were more audible and more frequent then I have heard in a while and which I am certain was a result of many of the audience members understanding this material in a more intimate and first hand way, as either participants or witnesses to similar real life stories.
DETAILS: "Guess Who's Coming to Dinner" is at the Court Theatre (on the campus of the University of Chicago) at 5535 S. Ellis, Chicago, through April 15, 2018. For tickets and other information call (773)753-4472 or visit CourtTheatre.
Reno Lovison
For more shows visit  Theatre in Chicago