HIGHLY RECOMMENDED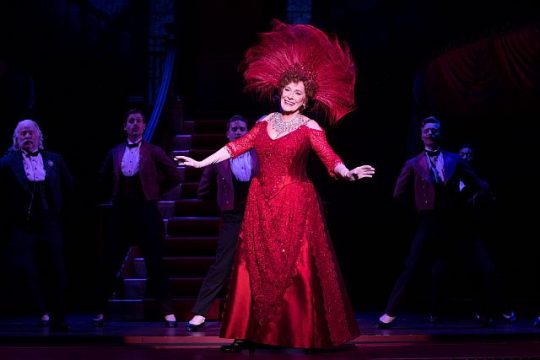 I'm glad you're on stage in Chicago where you belong.
It doesn't matter if Carol Channing, Bette Midler or Barbara Streisand come to mind, the current touring version with Theatre Hal l of Famer Betty Buckley as Dolly Levi, that  brash New York "meddler, matchmaker and miraculous handler of anything needed, is making her endearing way into audiences hearts.
Fortunately the tour is currently in Chicago at the Ford Oriental Theatre where audiences also get a terrific Horace Vandergelder in the person of consummate film and stage actor Lewis J. Stadlen and a talented supporting cast.
Both Nic Rouleau (Book of Mormon) as head Vanergelder clerk  Cornelius Hackl and his love interest, Analisa Leaming who  reprises her Broadway role as hat shopper owner Irene Malloy,enchant audiences with their wonderful rendition of  "It only Takes a Moment."
While Jess LeProtto (Broadway "Hello, Dolly! Ensemble) pulls off exciting dance moves as junior clerk Barnaby Tucker and his love interest Kristen Hahn (Broadway, "A Gentleman's Guide to Love & Murder), adds delightful comic relief as hat shop employee Minnie Fay.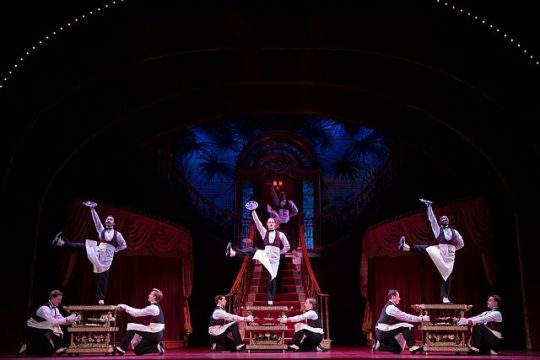 But good as the cast is what arguably moves the touring show into the good-as-Broadway-category is Warren Carlyle's terrific choreography nicely paired with Gower Champion's original choreography.
The production has many highlights but "The Waiters' Gallop" at the Harmonia Gardens Restaurant  in Act Two brought "the house down" at Wednesday's opening night performance and was talked about as people left the theatre.
Part of the fun of the show is Santo Loquasto's scenic design of 1880s period-perfect pictorial backgrounds, a smoke puffing steam engine on stage and the clever Harmonia Gardens with two curtained, private booths for the clerks and dates on one side and Vandergelder and his date on the other side of the restaurant's famed grand staircase. Loquasto also designed the charming period costumes.
However, two big reasons "Hello, Dolly!" attracts audiences is the delightful story theme of Thornton Wilder's "The Matchmaker" carried through with Michael Stewart's intelligent book and Jerry Herman's memorable music and lyrics.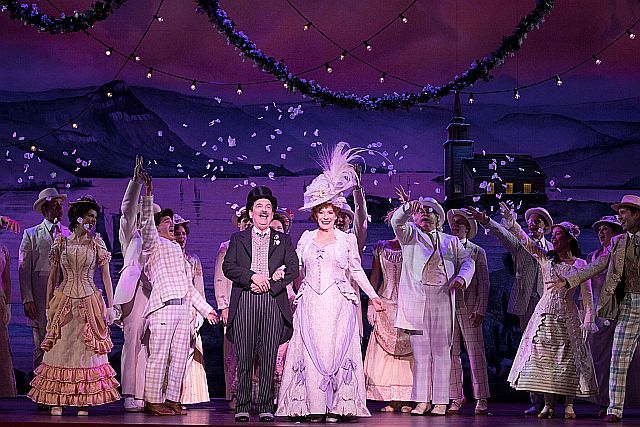 It's hard to get the popular "Hello, Dolly" greeting out of the mind sung by Dolly, Maitre d' Rudolph, waiters and cooks when she enters and carefully descends the grand staircase. Yet, the song that really hits the audiences in the tear ducts and was beautifully executed by Buckley is "Before the Parade Passes By" to end Act One. Speaking in song to the love of her life, her dead husband Ephraim, she explains:
"I wanna feel my heart coming alive again
Before the parade passes by"
Originally directed by Gower Champion, director Jerry Zaks's "Hello, Dolly! production which picked up four Tony Awards for Best Musical Revival in 2017, is a feel-good show in the old-fashioned mode of classical musicals. It is only  in Chicago for a limited engagement but try to fit in onto the calendar. This touring "Hello, Dolly!"  is a first rate production.
DETAILS: "Hello, Dolly" is at the Ford Oriental Theatre, 24 W. Randolph St., Chicago, through Nov. 17, 2018. Running time: 2 hrs, 35 min. For tickets and other information call (800) 775-2000 or visit Broadway in Chicago.
Jodie Jacobs
For more shows visit Theatre in Chicago