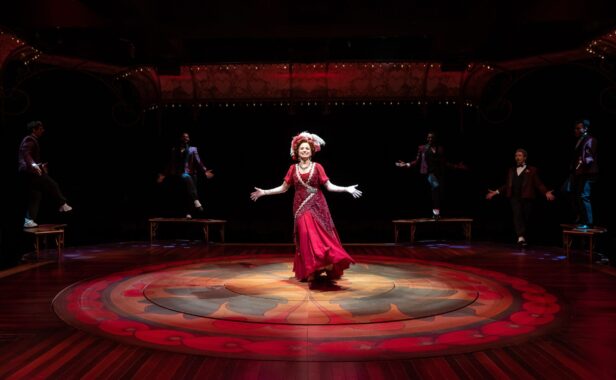 4 Stars
Of course, you will be leaving the Marriott Theatre production of Hello Dolly singing its famed theme song but what you are likely to be talking about is the shows fabulous choreography and fine acting.
What audience members who already had tickets for Sept. 15 might not know is that after previews, that date was the show's new opening night. It came two weeks after the original opening Aug. 31 was canceled due to Covid among some cast members.
Possibly they might have noticed that the production didn't include a staircase that Dolly Levi typically comes down for a grand entrance into her favorite café, Harmonia Gardens. A note with the program said there was a hydraulic problem.
The delay and staircase absence just didn't matter. The production and performances received a well-deserved standing ovation.
Superbly directed and choreographed by Denis Jones, this old crowd-pleaser, a musical based on Thornton Wilder's The Matchmaker. is filled with wonderfully comic and heartfelt moments.
There is the delightful Act One scene in widow Irene Molloy's (Rebecca Hurd) hat shop where Cornelius Hackl (Alex Goodrich) and Barnaby Tucker (Spencer Davis Milford), two young Yonkers lads in New York for a night on the town, try to hide from their employer, widower Horace Vandergelder (David C. Girolmo). He left Yonkers to meet a prospective wife with help from matchmaker Dolly Levi (Heidi Kettenring).
And, there is the hysterical moment played to the hilt by Kettenring near the end of Act II when she prolongs a hearing of before a judge that involves the show's main characters. As everyone waits and waits, Dolly thoroughly enjoys a dinner she had started back at Harmonia Gardens and brought to the courtroom.
As to heartfelt, there is Hurd beautifully singing "Ribbons Down My Back" as she puts on one of her hat creations for her sudden date with Hackl.
There is also Kettenring bringing audience members close to tears with her rendition of "Before the Parade Passes By."
And speaking of parades, there is a wonderful scene of New York's  14th Street Association Parade that includes people marching with placards and banners for women's rights.  Although set in the late 1800s, the show proves it is still relevant.
Originally directed and choreographed by Gower Champion you can expect several strong dance scenes. Marriott's Hello Dolly delivers with Jones' brilliant interpretations of the sentiments expressed in this Tony Award-Winning Musical with its book by Michael Stewart and music by Jerry Herman.  
Shoutouts also have to go to the Marriott Orchestra conducted by Brad Haak, to Music Director Ryan Nelson, Costume Designer Theresa Ham and to Co-Scenic Designers Jeffrey D. Kmiec and Milo Bue. They nailed the musical's rhythms and time period.
Even though Hello Dolly opened on Broadway in 1964, matchmaking hopes are still alive today with online dating and the desire to participate in life "before the parade passes by," is still a strong motivator.
DETAILS: Hello Dolly is at Marriott Theatre, 10 Marriott Dr., Lincolnshire, now through Oct. 16, 2022. Running time: about 2 ½ hours with one intermission. For tickets and more information visit Marriott Theatre. 
Jodie Jacobs
For more shows visit Theatre in Chicago