HIGHLY RECOMMENDED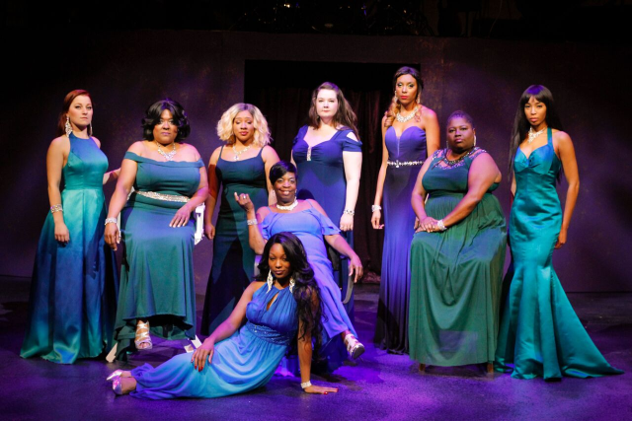 The Black Ensemble Theater, founded in 1976 by Jackie Taylor, has been dazzling audiences ever since with original musicals.  Its current production, "Women of Soul," written and directed by Associate Director Daryl D. Brooks, is a tribute to many powerful female singers who cover different genres and numerous years.
The female cast includes Cynthia Carter, Robin DaSilva, Hannah Efsits, Jerica Exum, Colleen Perry, Rhonda Preston, Jessica Seals, Ariel Williams and Jayla Williams-Craig.
These nine talented women —with one wonderful male cast member, Dwight Neal who plays their various partners—portray well over fourteen famous soulful singers.
The production also includes these fabulous musicians: Robert Reddrick, Adam Sherrod, Gary Baker, Mark Miller and Dolpha S. Fowler.
Cast members give the background of each of the well-known singers plus some newly-revealed details such as how their careers blossomed and how some of their lives unfortunately ended. Then the singer portrayed performs one of her hits.
From Mahalia Jackson's "Trouble of the World," Etta James's "I'd Rather Go Blind" and Janis Joplin's "Cry Baby" to Diana Ross's "I'm Coming Out" and Natalie Cole's "This Will Be An Everlasting Love," the fabulous cast practically rocks people out of their seats.
An amazing salute to female vocalists, the production also includes hits of  Whitney Houston, Anita Baker, Janet Jackson, Mavis Staples, Gladys Knight, Donna Summer, Chaka Khan and more.
The musical ends with a medley of songs giving tribute to the Queen of Soul, Aretha Franklin, with "Ain't No Way," " I Say a Little Prayer for You," " Respect" and "You Make Me Feel Like a Natural Woman."
When the cast lined up in the lobby while audience members were leaving the theater, two statements came from my heart: their performances were fabulous and the closing tribute to Aretha Franklin brought joyful tears to my eyes. "Women of Soul" celebrates all women!
DETAILS: "Women of Soul" is at the Black Ensemble Theater, 4450 N. Clark St., Chicago, through Jan. 27, 2019. Running time: 2 hours, 30 minutes with one intermission. For tickets and other information call (773) 769-4451 or visit Black Ensemble Theater.
Francine Pappadis Friedman
For more shows visit Theatre in Chicago
.