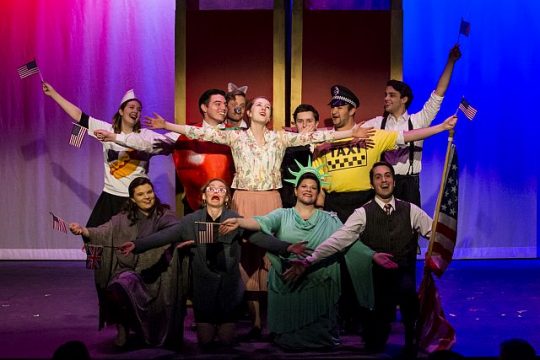 2.5 Stars
The Chicago Musical Theatre Festival produced by Underscore Theatre through Feb. 24, 2019 is a great opportunity to experience new work from emerging composers, lyricists, and playwrights of this classically American performance genre.
My first festival experience this weekend was "Brooke Astor's Last Affair" based on the life of New York socialite and philanthropist Brooke Astor.
The format is flashback fantasy in which Brooke is forced to review some life choices including the relationship between her and her son (from a previous marriage), Tony Marshall.
I very much wanted to love this show and it has a number of interesting moments but overall it was a miss.
The book and lyrics by Rachael Migler are the heart of the production and get the job done in terms of telling the story but the music by composer Nick Thornton is generally underwhelming with the exception of "Marry for Money" and the very cute "Dachshunds and Men."
Incidentally, the score was well performed by Rachel Hoovler and Nick Sula as the orchestra on keyboards. My issue is related to the relationship of the music to the message it was meant to convey and the fact that it lacked development and did not seem to take best advantage of the vocal range of the characters.
Musical theater is a challenge because in order to be done well the performers must be good singers, good actors, and good dancers.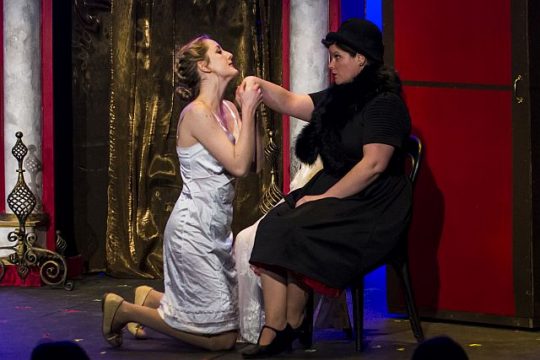 In this case the chorus, especially Emily Hawkins, Kayla Muldoon and Melanie Vitaterna, worked hard to breathe some energy into the otherwise rather static direction and predictable choreography of Nick Thornton.  Marko McRae who played Young Tony and Young Philip was a joy every moment he was on stage.
Elijah Cox as Tony Marshall was pouring his heart into this role which was much appreciated but he and Sarah Ohlson as Brooke Astor might have improved under a stronger hand as would the rest of the cast who could have pulled this off if they believed what they were saying, especially Neill Kelly as Vincent who comes tantalizingly close.
Sadly the set design by Jonathan Berg-Einhorn was no help, being too small for the stage and basically looking like some shabby props from a traveling magic act.
Likewise the costumes by Christina Leinicke had an opportunity to elevate the production but were equally uninspired.
I like to keep in mind that there might be budgetary constraints but in-the-end, local theater is always about how can we do something creative with the resources we have. And for the theater goer it is inspiring to see the expression of creativity when it works.
As a "somewhat recommend" I suggest that this production has value as part of a festival experience where you might want to be able to see new material performed and get some comparative experiences as well as an opportunity to showcase new talent but this show is probably not bound for an extended run.
DETAILS: "Brooke Astor's Last Affair" by Underscore Theatre Company is at the Edge Theatre, 5451 N. Broadway, Chicago, for three more performances through Feb. 20, 2019.  Running time: About 1 hour and 45 minutes with one intermission. For tickets and more information visit  at Chicago Music Theatre Festival, CMTF.
Reno Lovison
For more shows visit Theatre in Chicago