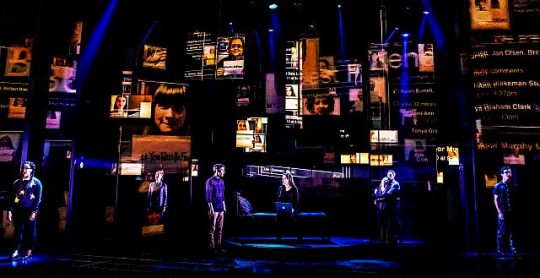 3 1/2 stars
It's not breaking news that teenagers experience angst in high school from parental to peer pressure and from wanting to fit in to having a best friend and from feeling insecure or inadequate to not knowing how to express one's self or experiencing bouts of depression. In addition there are teens on drugs, troubled teens and teens contemplating suicide.
It's also not breaking news that actions go viral because someone is always around snapping and recording on a cell phone or that some of the so called stories out there are "fake news."
Add to the mix that either teenagers think their parents don't understand them or that they want something from them they are not able to manage. There is also the issue of parents who are so busy with other aspects of life that they are not around when needed.
In the hands of songwriters Ben Pasek and Justin Paul (who later did "La La Land") and playwright Steven Levenson (Days of Rage) those issues coalesce in the Broadway hit musical, "Dear Evan Hansen," directed by Michael Greif ("Rent," "Next to Normal").
There have been a lot of shows that deal with family problems but what seemed to set this one apart upon seeing it when the national tour hit Chicago this week, were the extraordinary songs that expressed Evan's wistful feelings such as "You Will Be Found," Waving Through a Window and "For Forever." Evan's mom, Heidi who after her husband left them, works and goes to class so is seldom around, also gets her heart wrenching song, "So Big, So Small."
Indeed, the show won the 2018 Grammy Award for Best Musical Theater Album.
Those and the show's other songs were performed by a stellar Tour cast. They basically made up two families – the Hansens and the Murphys, plus two classmates, Jared and Alana. 
Broadway actor Ben Levi Ross is Evan Hansen, stage and TV star Jessica Phillips is his mom, Heidi Hansen. Tony Award nominee Christiane Noll portrays  Cynthia Murphy and Broadway veteran Aaron Lazar isher husband, Larry Murphy. Actor/musician Marrick Smith is his son, Connor Murphy and stage and TV actor Maggie McKenna is Connor's sister Zoe. Jared Goldsmith plays Jared Kleinman and PhebeKoyabe is Alana Beck.
But for today's audience, the show presents the great irony of the times – that in the midst of all the social media that abounds on the internet and displayed, by the way, by David Korins scenic design and Peter Negrini's projection design, communication eludes people sometimes, yet causes great damage at other times.
However, the show misses an opportunity to examine mental illness which Evan might be suffering and to examine teenage suicide which affects the family of Evan's classmate, Connor Murphy.
The title comes from a letter Evan writes to himself about his day on the advice of his therapist. It is supposed to be an optimistic-sounding letter. Problems begin when Connor, whom we see and hear later after he is dead, snatches the paper from Evan but still has it when he commits suicide.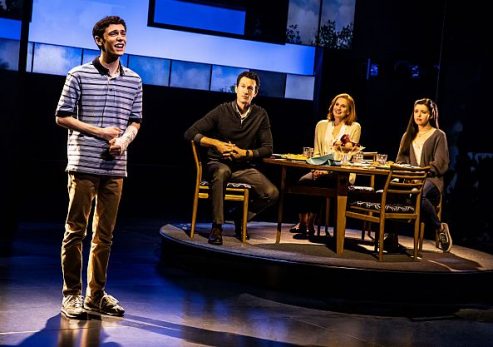 Connor's parents, Cynthia and Larry Murphy, think their son wrote it to Evan. so Cynthia encourages Evan to visit them. He does so because he feels sorry for them, plus, his mom is not around much.

What starts out innocently enough goes out of control when Evan's sympathy takes on huge proportions abetted by two classmates, Jared Kleinman and Alana Beck.
Somewhat similar to Stephen Sondheim's "Into the Woods," the first half ends on a high note with Evan in the limelight but turns disastrous in the second act when the stories built up in Act I burst in Act II.
My problem with the show is that it could have been a vehicle for discussing mental illness and teen suicide. Nothing is ever said in the show that Evan was suffering from it even though it was implied. It also could have dealt better with suicide among teenagers.

There is the heartbreaking question asked during the show: "Would anyone notice if I disappeared?"
The critics love "Dear Evan Hansen." After all, the show won six Tony Awards. But I've read what some audience members thought and talked with some people during intermission. They loved the songs, they knew people who were somewhat like the show's characters, but they wanted more answers.
DETAILS: "Dear Evan Hansen," is at James M. Nederlander Theatre (formerly Oriental), 24 W. Randolph St., Chicago, through March 10, 2019. Running time: 2 hrs. 30 min, with one intermission. For tickets and other information visit Broadway in Chicago/Dear Evan Hansen.
Jodie Jacobs
For more shows visit Theatre in Chicago