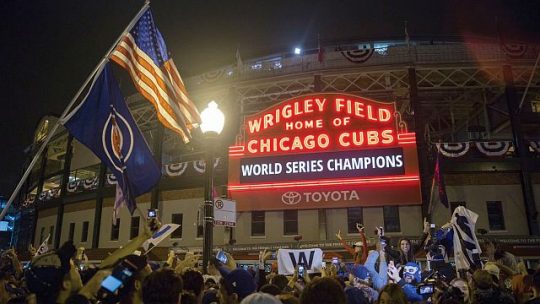 Certainly "Miracle," a musical directed by Damon Kiely and premiering at the Royal George Theatre May 8, 2019,  refers to the Chicago Cubs 2016 Championship.
But during a phone interview with lead producer William "Billy" Marovitz, the concept's originator, what comes across is how much baseball is a part of many people's lives.
And yes, Marovitz, who has followed baseball "for as long as I can remember," is the former, long-time IL State Senator instrumental in working out the compromise that brought lights to Wrigley Field in 1988.
Marovitz had earlier conceived a Chicago show about what happened in the city during the two Daley administrations. But when he realized the concept wasn't going anywhere when Richard M. Daley didn't run again, his love of baseball sparked another show idea.
"It was Feb. 16, 2016 and I thought the Cubs have a good team. So I though let's look at the season through a family. I needed to tell a story, not one just about baseball, but about real people, their ups and downs," he said.
The story, fleshed out by film and TV writer Jason Brett, co-founder of Chicago's Apollo Theater, follows the Delaneys, a Wrigleyville bar-owning family, through changing times.
Marovitz tells how in one part of the show the Delaney's 11-year old daughter asks her grandfather who is always going over to Cubs' park, how he got his limp.
"He explains he was in Vietnam, in a fox hole when he got shot up, and said he thought would lose his leg," Marovitz said. He continued, "And then the grandfather says "The only thing that kept me going was a transistor radio. I could listen to the games."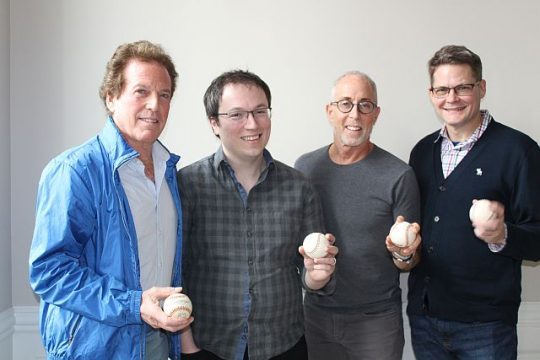 As Marovitz talked, I recalled how a friend of mine bought an MLB TV package so her husband who was dying of cancer could watch all the baseball games including those during spring training.
Over the years, it was the TV and radio announcers who connected the game with listeners and watchers.
At "Miracle," audiences will hear "The Voice Above the Crowd" written a few years ago for a special occasion by Julian Frazin, a retired Circuit Court of Cook County judge who had written and produced much of the Chicago Bar Association's famed "Christmas Spirits" shows. Frazin had also worked with Marovitz on the Daley and "Miracle" show concepts.
The song's back-story is another choke-up connection to baseball. Originally written to honor Hall-of-Fame broadcaster Jack Brickhouse, the Cubs play-by-play announcer from 1948 to 1981, it was first sung at the dedication of the Brickhouse sculpture on Michigan Avenue near the Tribune Tower in 1980.
Marovitz mentioned that he received a help call from Pat Brickhouse who couldn't understand why the Cubs did a sculpture of Harry Caray  for the baseball park but said no to one of Brickhouse.
So he and friends formed a committee, raised funds for a sculpture, got it placed on North Michigan Avenue and had Frazin write the song for the dedication that now "Miracle" audiences will hear.
The song's honoring broadcasters goes even further. Marovitz asked then Baseball Commissioner Bud Selig to have it played at the 2003 All Star Game at the Chicago White Sox Park to honor all the great baseball announcers. It was sung by former Styx lead singer Dennis DeYoung.
Along with that pre-"Miracle" song, Marovitz hopes audiences will leave the show with a song in their head and an understanding of Cubs' fans "keeping the faith year after year."
Miracle," with the tag line "108 years in the making," is a musical so expect songs by Jeff Award-winning composer/lyricist  Michael Mahler that relate to ups, downs and also baseball. But they are likely to be easy to hum.
"What I told Michael was I'm difficult about musicals. I have to walk away singing a song. I want songs people will remember and leave singing," Marovitz said. "The result is about 16, 18 songs. And I'm singing and humming them every day. They are on my phone."
Will he come up with another musical after "Miracle?"
"I believe in focus.  This has been such a long, difficult, expensive process. I have to keep my eye on the ball.," he said.
OK, but If successful, then what?
"Sure I have some ideas, maybe a wonderful Chicago story or maybe something for Broadway. Right now we'll see," he said.
DETAILS: 'Miracle' premiers at the Royal George Theatre, 1641 N. Halsted, Chicago May 8, 2019 and has an open run. For more information visit Royal George Theatre.
Jodie Jacobs