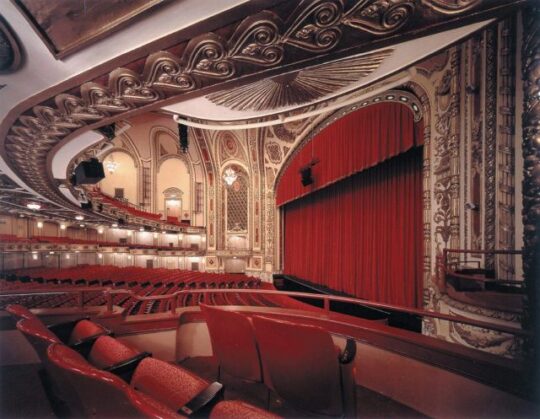 Due to safety concerns about the COVID-19 virus, Chicago area production companies, and there are about 250 of them, are busy trying to reschedule shows while canceling some. They are also dealing with options that include taking ticket credits for future performances or donating tickets instead of asking for refunds.
The number of such announcements increases every hour. Here are some of the latest Chicago theater updates.
A Broadway in Chicago statement reads: "The safety and health of our patrons, staff and theatrical companies is our top priority. In response to the rapidly evolving COVID-19 (coronavirus) we will be canceling or rescheduling the following performances:
"The Bachelor Live on Stage" at the Cadillac Palace Theatre is changed to Oct. 10, 2020 "Keane- Cause and Effect Tour" at the Cadillac Palace theatre is cancelled. "My Fair Lady" at the Cadillac Palace theatre has been changed to May 10-23, 2021. (Note different year). Performances of "What the Constitution Means to Me" at Broadway Playhouse are suspended through the end of March. The show may resume from March 31 through April 12, 2020 with reduced seating numbers.
To discuss refunds or exchanges contact point of purchase. So for Ticketmaster call (800) 775-2000, for Broadway in Chicago call Customer Service at 312=977-1702, if a Broadway in Chicago subscriber call (312) 977-1717 or if purchased through Broadway in Chicago Group sales, call (312) 977-1710.
The famed comedy company and venue, operating since 1959, is suspending Chicago performances through March 26 (or until further notice). The company's statement reads: The Second City will get back to the business of making you laugh just as soon as we can. In the meantime, they will monitor the situation with the CDC and local government and provide updates as they become available."
Ticket holders can call (312) 337-3992 or chat live at www.secondcity.com. Options will include refunds and also asking patrons to support actors, musicians, hosts, servers, and staff by rescheduling for future shows or putting the balance on a Second City gift card to use towards a future date. Second City Training Center classes remain in session.
Previews of "Hit Her with the Skates" at the Royal George Theatre, 1641 N. Halsted St., been rescheduled. A coming of age musical starring American Idol couple Diana De Garmo and Ace Young, the show will now premiere April 23, 2020 and previews will resume on April 21. Purchased tickets may be refunded or exchanged.
"Chicago, we are here for you and excited to continue our journey to bring "Hit Her with the Skates"  home. Keeping our audience and company members safe is our top priority at this time. Forward Motion!" said Creative Producer Christine Rea. For more information visit www.HitHerWithTheSkates.com.
The venue, a small, historic building with a small seating capacity well under the 250 number mentioned by IL Governor J. B. Pritzker, will currently stay open.
"We know that our patrons are concerned about what the Skokie Theatre is going to be doing relative to the corona virus. It is our plan to remain open for all performances and events until our patrons no longer wish to attend. We are a small venue of only 140 seats and to date, only much larger venues have been cancelling programming," read a statement from MadKap Production company.
The statement continues with: "We have significantly increased the frequency of cleaning and disinfecting in all public and backstage areas beyond the standard daily schedule, and we have plenty of soap and paper towels, in addition to disinfectant wipes available for your use.  We encourage patrons to make use of soap, paper towels, and tissues available in the restrooms. We are cleaning all chair backs and arms rests with disinfectant wipes. We will continue the same precautionary diligence in our bathrooms."
The venue will accommodate patrons who prefer an even smaller number by exchanging tickets to less attended performances.
Jodie Jacobs
Related: More theaters weigh in on canceled performances. and  Chicago theatres temporarily suspend productions