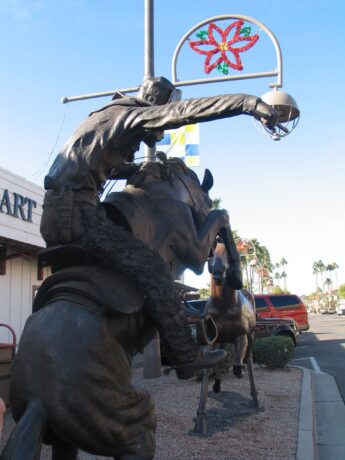 You survived the Chicago area's recent torrential downpour and downed tree limbs but the weather weaves back and forth between icy and OK. Not bad. However, you are still talking about seeing your baseball team in action. So, go.  MLB has 15 teams playing in Arizona's Cactus League beginning Feb. 24 and continuing to March 28, 2023. 
That means even if you can't get your tickets from the Cubs or White Sox in their home park you can see them play in one of the other parks. None are farther than 40 minutes away in the Phoenix- Scottsdale- Glendala-Mesa area. 
Spring training tickets are less expensive than during regular season and the players are good about autographs. Plus, the atmosphere is fun and casual. 
Speaking of fun, see Visit Phoenix/Things to do where you can scroll down to a map titled "Explore Greater Phoenix." Find the town where your team plays and tap on it for places to stay, restaurants and what to do.
As an example, when clicking on Mesa  in greater Phoenix's Southeast Valley, you see it has the Cub's spring training base of Sloan Park.  The Cubs begin at Sloan, Feb  25, against the San Francisco Giants.
Mesa is also home to Hohokum, the Oakland Athletics Stadium, several art galleries and such fun restaurants as Worth Takeaway and Jalapeño Bucks (known for its brisket).
By tapping Glendale, an area northwest of downtown Phoenix, you find Camelback Ranch, the spring home of the Chicago White Sox and the LA Dodgers.
Glendale has historic Main Street, an area of turn-of-century homes and lots of restaurants.   Visit Cactus League at Camelback Ranch for good ideas on where to stay and what to do.
Which brings us to when and where to go: the Spring Training teams and schedule. MLB has 15 teams that play in the Cactus League from Feb. 24 to March 28, 2023. Find when and where your team is playing.
*Warning: When looking for info and tickets the websites that appear are primarily resale and other sites. Be safe by going to an official MLB site for tickets. Type in your team and MLB.com.
As an example, White Sox fans can find info at Official Information | Chicago White Sox (mlb.com) and the schedule at Chicago White Sox Schedule | Chicago White Sox (mlb.com) or at Official Chicago White Sox Website | MLB.com
Go. Have fun. See you in late spring.
Jodie Jacobs