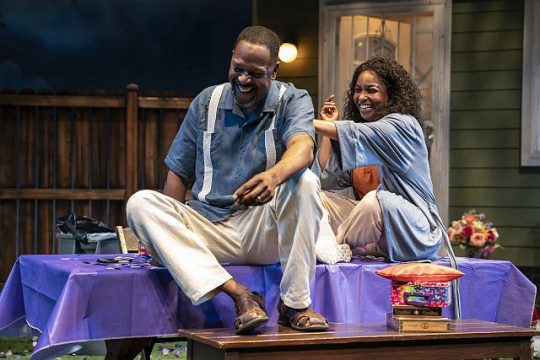 3 stars
Rightlynd is Holter's fictional ward in Chicago. When guests enter Owen's lobby they see a colorful board map of the neighborhood with places and names that have been mentioned in the saga's plays that precede "Lottery Day." Maybe a copy of that map ought to be in the playbill.
If you think of playwright Ike Holter's "Lottery Day," the seventh play in his Rightlynd saga, from an opera format view point, you may not mind that you don't hear what the characters are saying when they all talk at the same time. Maybe, just consider it a duet or blending of emotions and voices.
According to Holter's comments in Goodman Theatre's On Stage Q&A the cadence and very fast dialogue beats in his series are deliberate.
I understand that. But when watching "Lottery Day," now in its world premiere at Goodman's Owen Theatre, I felt I needed to actually hear what they were saying to help me define each character's place in the story, their concerns and background.
Not having seen any of the plays that preceded "Lottery Day" in the saga, I felt I had come upon preparations for a party and then the party, itself, quite accidentally without knowing any of the participants, their back story or why they interacted the way they did.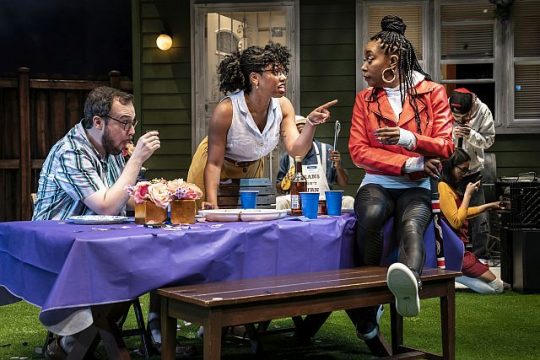 The action takes place in the backyard of the main character, Mallory, exquisitely interpreted by J. Nicole Brooks as the person who is throwing a party.
You learn that she will be awarding a guest with lottery-sized winnings and that she refuses to mention the names of her husband and daughter killed by an intruder a few years back.
Arnel Sancianco's set design provides the perfect backyard of Mallory's well-cared-for, traditional neighborhood house and the new, modern one next door.
She resents the neighborhood's gentrification, her next-door neighbor's "Lincoln Park" contemporary style house,  that her neighbor is actively changing the area and that neighbor's lifestyle which doesn't appreciate the parties held in Mallory's backyard.
But the "Lottery Day" party is supposed to bring the community together. (Not doing a spoil alert about what happens with the lottery competition.)
Directed by Lili-Anne Brown the entire cast is excellent. My problem was that I couldn't catch a lot of the dialogue and I would have liked to have gotten to known the characters better.
DETAILS: "Lottery Day" is at Goodman Theatre, 170 N. Dearborn St., Chicago, through April 28, 2019. Running time: 2 hours, 5 minutes, with 1 intermission. For tickets and more information call (312) 443-3800 and visit Goodman/tickets.
Jodie Jacobs
For more shows visit Theatre in Chicago