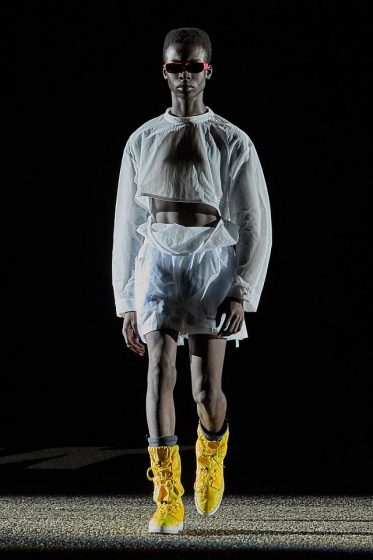 If thinking about the fashions of tomorrow, head to the Museum of Science and Industry near the Hyde Park neighborhood for "Wired to Wear."
If anyone in the household is wondering how people break into the fashion industry, go over to the Museum of Contemporary Art for Virgil Abloh's "Figures of Speech."
If curious how a famed 19th century artist dresses his models and sees  1870s-1880s Parisian apparel, visit "Manet and Modern Beauty" at the Art Institute of Chicago.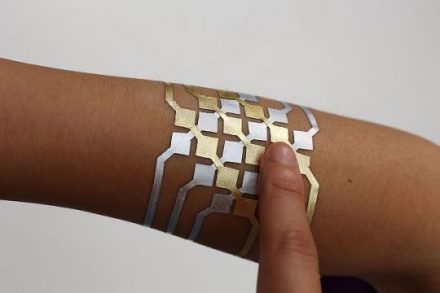 "Wired to Wear"
Some day, probably sooner than you expect, your what-to-wear question will be which of your wired apparel would best suit the day's activities.
Choices could range from Nike's Self-Lacing Shoes because of time constraints to a D-Air Racing suit with a cushion that inflates before your crash to prevent injury such as when racing a motorcycle.  Or the choice might range from an Iridescence collar that will detect the mood of people encountered to a Smart Tattoo on the arm that interfaces with your mobile device and makes a personal style statement.
Designed by Microsoft, the tattoo in the exhibit allows visitors to create notes on an instrument and even control lighting. To hear more about it go to Duoskin.
Similar to the Coal Mine, visitors need a special ticket in addition to museum entry. Opened in Mid-Mach 2019, the exhibit continues to May 2020. MSI is at 5700 S. Lake Shore Dr., Chicago. For hours and other information see Visit.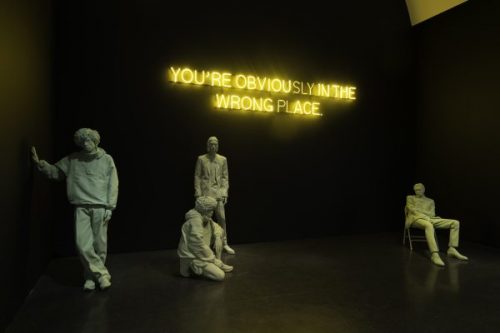 "Figures of Speech"
Engineer, architect, artist, fashion designer, Virgil Abloh is a 30-seomthing, black male from Rockford, Il whose creativity and determination has taken him from t-shirt designs to founding "Off-White," his own line in Milan, and becoming Louis Vuitton Men's Artistic Director.
But what the MCA exhibit which opens to the public June 10 does, is more than highlight Abloh's career to date. It also offers the artist's sense of astonishment that he has been successful in an industry not exactly populated by blacks.
So race is an underlying theme. However, Abloh also hopes the exhibit will inspire youngsters to go for their dreams undeterred by obstacles. There is an accompanying store, called "Church and State," that is on the same 4th floor as the exhibit. It has Abloh items and a catalogue that further explains the theme and the "go-for-it philosophy.
The exhibit goes to Sept. 22, 2019. MCA is at 220 E. Chicago Ave., Chicago. Admission is by timed tickets. For more information or tickets call 312-397-4010.or see Visit and Events.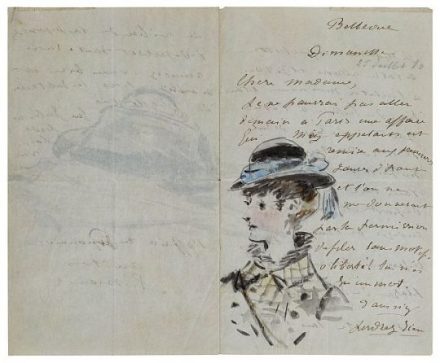 "Manet and Modern Beauty"
In his early years, 19th century French artist Édouard Manet had primarily focused on historical and religious subjects. But in his later years when he transitioned to Impressionism he became interested in modern life and ladies' fashionable apparel and leisure activities. The exhibit features more than 90 works from paintings to letters.
The audio devise that accompanies the exhibit and some of the wall descriptions explain clothing choices and mention the stylish apparel of men and women.
The Art Institute of Chicago is at 111 S. Michigan Ave., Chicago. The exhibit is only up this summer and ends Sept. 8, 2019.  For admission and hours see AIC/visit.
These exhibits deserve to be on the summer do list.
Jodie Jacobs