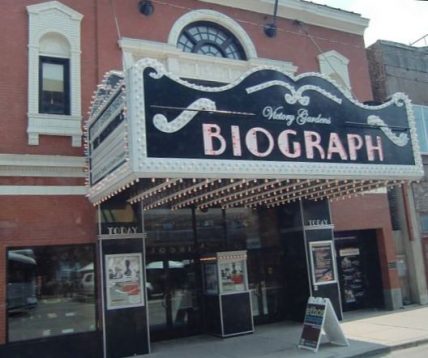 When looking up 2019-20 show listings don't forget the theaters in the Chicago's neighborhoods. You don't want to miss excellent productions that are likely to be Jeff Award Winners. The next peek in a what will be on stage series takes in the Near North and the Lincoln Park area. (Don't worry that some places spell theater.
(Part One was Looking ahead to the next theater season starting with Broadway in Chicago. Part Two was Theaters Downtown and on the Mag Mile.)
A Red Orchid Theatre
The theatre, 1531 N. Wells St., starts the fall with the world premiere of "Grey House" Oct. 10 – Dec. 1, 2019. Winter's production is the Chicago Premiere of  "Do You Feel Anger?" Jan.16 – Mar. 8, 2020. Spring brings the Chicago Premiere of "The Moors" April 23- June 14, 2020.
For tickets and more information visit Red Orchid or Red Orchid/2019-20 season call (312) 943-8722.
Greenhouse Theater Center
The Center, 2257 N. Lincoln Ave., hosts a variety of theater companies with a packed line-up in 2019-20. This list is for summer, early fall 2019.
Currently, BOHO Theatre is doing the Chicago Premiere of "The River" through July 28. The Comrades do "The Roast" July 18- Aug. 19. Then, MPAACT Summer Jams holds a theater festival of 17 acts in 7 days Aug. 5-11.
On the Spot Theatre Company and Greenhouse are presenting "Sons and Lovers" Aug. 29-Sept. 29. Exit 63 Theatre has "Horse Girls" running Sept. 5-Sept. 22. Greenhouse and Proxy Theatre are doing "Midsummer (A Play with Songs) Sept. 4-Oct. 6.
Red Tape Theatre which has moved to the Greenhouse Theater Center, is doing "All Quiet on the Western Front"  Aug. 16 through Sept.14. . For tickets and other information visit Red Tape Theatre.
For more shows, information and tickets visit Greenhouse Theater and call (773) 404-7336.
Royal George
The venue, 1641 N. Halsted St., currently has the world premiere of  "Miracle: 108 years in the making" (about the Chicago Cubs) extended through Labor Day. Also "Late Nite Catechism" as an open run is at 5 p.m. Saturdays and "Bible Bingo" is an open run Fridays and Saturdays at 8 p.m.
For tickets and more information visit Royal George and call (312) 988-9000.
Steppenwolf
The theatre company, 1650 N. Halsted St., currently has "Ms. Blakk for President" (upstairs) through July 21 and Sam Shepard's "True West" through Aug. 25 (main stage).
The new season begins with "The Great Leap" (upstairs) Sept. 5- Oct. 20 followed by "Lindiwe" based on music of Ladysmith Black Mambazo (downstairs) Nov. 7-Dec. 29 and the Chicago premiere of "Dance Nation" Dec. 12, 2019-Jan. 26, 2020.
Then comes Tracy Letts' "Bug" Jan. 23-Mar. 8 (downstairs) followed by  "The Most Spectacularly Lamentable Trial of Miz Martha Washington"  downstairs) April 2-May 17.Then, "King James on LeBron James's reign (upstairs) May 7-June 21, ending with "Catch as Catch Can (downstairs) June 4-July 26.
For tickets and more information visit Steppenwolf  and Steppenwolf season or call (312) 335-1650.
Theater on the Lake
A Chicago Park District property at 2401 N Lake Shore Dr. presents Manual Cinema's "End of TV" July 16-19, "Stories from 2nd Story" 7 p.m. and "The Grelley DuVall Show" 9 p.m. July 23-26. The Neo Futurists are doing "Tangles and Plaques"  Aug. 13-16 and Peasus Theater has "Eclipsed" Aug. 20-23.  The 2019 summer season ends with Steep theatre's Red Rex" Aug. 27=30. Tickets are free.  Reserve tickets at the Chicago Park District box office  (312) 742-7994  or find more ticket and time information at theater on the lake/theater.
Victory Gardens
The theater, 2433 N. Lincoln Ave.,  currently has a co-production on stage. Sideshow Theatre Company and Rivendell Theatre Ensemble are doing "Something Clean" through July 21.
For its 45th season, Victory Gardens starts with the Chicago premiere of "Tiny Beautiful Things" Sept. 6-Oct. 13 followed by the world premiere of "The First Deep Breath" Nov. 15-Dec. 22, 2019.
Into the new year is the co-world premiere with Actors Theatre of Louisville's "How to Defend Yourself" Jan. 24-Feb. 23. Then, "Dhaba on Devon Avenue" is Mar. 27-Apr. 26. The season ends with the Chicago premiere of "Right to be Forgotten" May 29-June 28, 2020.
For tickets and more information visit Victory Gardens and Victory Gardens Season and call (773) 871-3000.
Jodie Jacobs