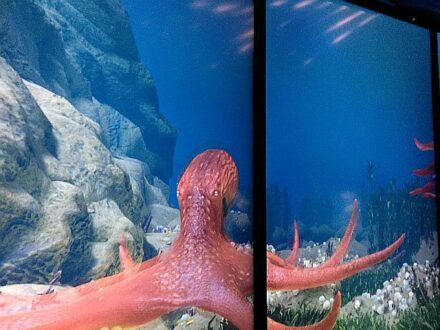 Maybe you have enjoyed Wellington the Shedd's penguin's exploration around the aquarium on Facebook or seen IL Gov. J.B. Pritzker's PSA with Wellington and penguin friends on You Tube.
Now, there is a great way to revisit the Shedd with Wellington but this time with Chicago Mayor Lori Lightfoot. A video done in partnership with Citadel and Chicago cultural institutions will premiere April 29, 2020 as the first in a weekly series called StayHome.HitPlayChicago.
After premiering online on Wednesdays, the videos in the series will be aired 5:30 p.m. Fridays on WTTW and at 12:30 p.m. Mondays on WTTW Prime.
They are a fun way to go back to places you might have visited and others you may want to see when museums, zoos and other Chicago destinations reopen to the public. They are similar to field trips and will include a component for youth.
In the inaugural segment Mayor Lightfoot stops at Shedd Aquarium to visit the penguins, feed the sharks and say hello to Nickel the rescued sea turtle. 
For a preview of the first segment in the series visit youtube/watch.
"Shedd Aquarium is proud to bring people eye to eye with animals and their remarkable underwater biology and aquatic biodiversity through this new opportunity," said Shedd President and CEO Bridget Coughlin. "We can't wait to reopen our doors and welcome everyhone back to Shedd. In the meantime, we are thrilled to kick off this at-home series and continue to welcome and connect with people virtually."
The series takes viewers behind the scenes to such places as the Museum of Science and Industry, the Field Museum, National Museum of Mexican Art, DuSable Museum of African American History, the Art Institute of Chicago and Lincoln Park Zoo.
"The exciting launch of "Stay Home, Hit Play" allows our city's cultural gems to come to live, ensuring our students are able to stay connected and engaged with our world-class museums and institutions amidst the unprecedented restrictions of COVID-19," said Mayor Lightfoot.
We are especially appreciative of the partnership of our parents, students, museum leaders and staff, WWTW, as well as Citadel whose support was instrumental for the creation of this series. As challenging as this moment has been, we will get through it together, and I look forward to joining all of Chicago in re-experiencing these inspiring sites when this crisis ends," she said.
Citadel founder and CEO Ken Griffin said he was excited to "discover and rediscover" some favorite places in a new way. "These institutions embody what makes Chicago special. They invitge us to learn, imagine and dream togehter, and we hope "Stay Home, Hit Play," will inspire children and parents this spring," Griffin said. 
Jodie Jacobs