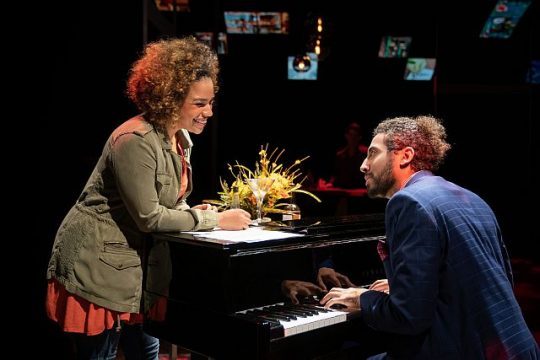 3 ½ stars
When the music is good, the songs are good, the voices are good and the staging is good, the show, in this case, "Darling Grenadine," deserves to be seen and appreciated even if the subject is not at the top of theater-goers' list of musicals must-do.
Conceived and written by Daniel Zaitchick about stress leading to alcohol addiction that is often experienced by musicians and others in the entertainment industry , the show is more in line with the personal battles of "Next to Normal" than Marriott's next play, "Something Rotten," that is a comedic musical about trying to write a hit show.
Whereas "Something Rotten," was a full-fledged, 2015 Broadway musical comedy hit, "Darling Grenadine"  is more an intimate, chamber musical that is making its way from its concert form at LA;s Rockwell Table & Stage and continued its fleshing out at Johnny Mercer Writers Colony  of Goodspeed Musicals in East Haddam, CT before presented by Marriott in what is labeled a Midwest premiere.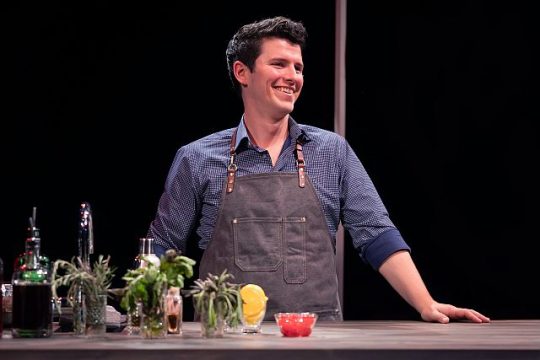 Well, Marriott has done this show justice with a superb cast and an intimate staging that works well with the theater-in-the round setting.
The multi-talented singer, writer, actor, instrumentalist Heath Saunders, last seen in Chicago in the title role of Lyric Opera's "Jesus Christ superstar, is perfect in the role of Harry, a song  writer who plays standards at his friend Paul's bar
He is constantly badgered by his agent to produce another successful commercial jingle plus  he falls in love with Louise, a member of a Broadway show and the lead's understudy who encourages him to write and sing his own songs but is angry when he manipulates a star-turn for her.
Similar to the demands of a one-person show, Saunders is on stage, playing the piano, singing and quietly raging, for most of the production's two and a half hours.
Jeff-nominated for her role as Sarah in Marriott's "Ragtime, Katherine Thomas as Louise has the right voice and sensitivity to put across Zaitchick's melodious solos, duets and reactions to Harry.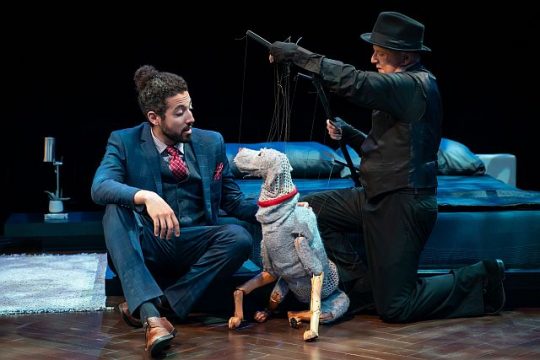 The cast is small. Nick Cosgrove who played Frankie Valli on Broadway and the National Tour and was last seen at Marriott in "Footloose" and "Oklahoma" is excellent as Paul, whose family raised Harry and who needs finance help from Harry for bar renovations.
The show has another Paul, a dog whose strings are manipulated by Phillip Huber of the Huber Marionettes, and whose barking-voice is delightfully played by trumpeter Mike Nappi.
Rounding off the action is Chicago stage veteran Allison Sill (Marriott, Paramount, Drury Lane, et al;) as Woman and Brandon Springman (frequently seen in Chicago area productions) as Man.
All the action takes place in the bar and in the lead's within a creative Manhattan-style space designed by Jeffrey D. Kmiec. Seasons, stars, lights and even Louise's "Paradise" show foliage cover the theater as window projections.
The show works because of Aaron Thielen's fine direction and choreography that makes for seamless scene and mood changes.
Even though audiences are not likely to carry away a memorable tune, Zaitchick's musical numbers sung by this cast are spell binding. Think of the production as a cabaret show.
DETAILS: "Darling Grenadine" is at Marriott Theatre, 10 Marriott Drive, Lincolnshire, through Aug. 18, 2019. Running time: 2 hours, 30 minutes with one intermission. For tickets and other information call (847) 634-0200 and visit Marriott Theatre.
Jodie Jacobs
For more shows visit Theatre in Chicago