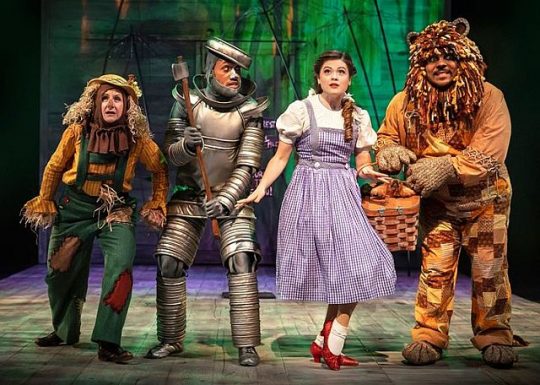 4 stars
Since "The Wizard of Oz," first delighted children and grownups back in 1939, L. Frank Baum's glorious fantasy, has been a continual favorite whether on film, in print or live on stage, as it is at Chicago Shakespeare Theater.
This road story, directed with spirit by Brian Hill and imaginatively choreographed by Kenny Ingram, is about how friends help, comfort and support each other. It also shows how experiencing new places can delight and educate, but ultimately reminds the traveler that, in the end, there's no place like home.
Living on a colorless Kansas farm with her Auntie Em and Uncle Henry (played by Emily Rohm and Jared D.M. Grant), lovely Leryn Turlington winningly steps into the ruby slippers as Dorothy Gale.
After being threatened by grouchy Almira Gulch, portrayed by Chicago stage veteran Hollis Resnik, Dorothy runs away with her little dog Toto (played perfectly by Derby, the dog), meets clairvoyant Professor Marvel and is swept away to the Land of Oz by a powerful cyclone.
Earnest and charming, with a smile that lights up the stage, Turlington puts her own touching stamp on the soulful ballad "Over the Rainbow."
On her travels through Oz, Dorothy meets Emily Rohm, transformed into a  glittering, pink Glinda, the Good Witch. Dorothy also makes friends with the local Munchkins played by Karla Boye, Timothy P. Foszcz, Jarod D.M. Grant, Haley Gustafson, Aalon Smith, Lauren Smith, Anthony Sullivan Jr. and Kaleb Van Rijswijck who advise her to "Follow the Yellow Brick Road."
Continuing on her journey, Dorothy encounters Marya Grandy's warmly sincere, rubber-jointed Scarecrow, Joseph Anthony Byrd's silver-clad and silver-throated Tin Man and Jose Antonio Garcia's fuzzy and very funny Cowardly Lion.
The trio enchants the audience with their musical yearnings for a brain, a heart and some courage, before joining Dorothy on the Yellow Brick Road singing "Off to See the Wizard."
Did Yip Harburg and Harold Arlen have any idea of the enduring musical magic they'd created when they composed all those wonderful, infectious songs, including "The Winkies March," "The Jitterbug," "Ding Dong the Witch is Dead" and "The Merry Old Land of Oz"?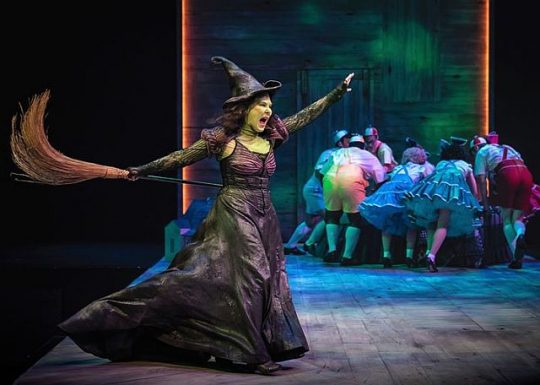 Before long, a cackling Resnik returns to terrorize the four friends as the Wicked Witch of the West. Flying in on her broomstick, she's ready to wreak havoc and challenge Dorothy for possession of those magical ruby slippers.
Although some of the younger kiddies in the audience may be momentarily frightened, there's far more humor than horror in Resnik's delightful characterization
At last, the four friends meet the Wonderful Wizard himself, played with blithe befuddlement and glee by brilliant character actor William Dick. He agrees to grant everyone's wishes if they'll bring him the broomstick of the Wicked Witch of the West.
The plot builds as Dorothy and Toto are captured by the Witch's flying monkeys and held captive in her castle before being saved by her friends.
The show's many magnificent, magical costumes are the creation of incomparable theatre artist Theresa Ham and her talented staff. All the whimsical wigs and makeup designs are by Richard Jarvie. Scott Davis' creative, adaptable scenic design, beautifully enhanced by Mike Tutaj's excellent moving projections, along with Lee Fiskness' dazzling lighting plot, help make everyone's journey from Kansas to Oz, and back home again, a beautiful, technicolor journey
A realistic-looking cyclone, chandeliers of corn cobs, a forest of talking apple trees, the poisonous poppy field and the witch's watery meltdown are just some of the wonderful wizardry afoot in this spectacular production.
Kory Danielson musically directs all of the voices with care, and assistant musical director Kevin Reeks conducts the accompaniment provided by his petite pit orchestra secreted away backstage.
A happy break from the summer's heat and humidity, this joyous, cinematically faithful, miraculous musical is a production for audiences of every age. Thanks to the popularity of the film, everyone knows this story by heart. But seeing Baum's classic brought to life onstage makes the magic tangible since it's happening just a few feet away.
Brian Hill's talented cast effortlessly creates all the movie's many lovable characters who audiences are invited to meet in the lobby. after each performance. This outing to Oz is one journey that every theatergoer, both the young and young-at-heart, will never forget.
DETAILS:  "The Wizard of Oz is at Chicago Shakespeare Theater in the Courtyard Theatre on Navy Pier, 800 E. Grand Ave. through August 25, 2019. Running time: 1 hr, 15 min. For tickets and other information call (312)595-5600 or visit Chicago Shakespeare.
Colin Douglas
For more shows visit Theatre in Chicago