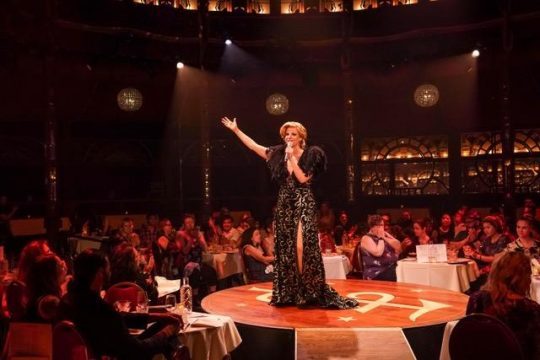 4 stars
You arrive at the 14th floor of the Cambria Hotel to be greeted by a bevy of smiling faces, all of whom are there to happily launch your theatrical experience.
If you've ever been on a cruise ship, you'll understand what awaits you. At the far end of the theatre lobby there's a huge bar, where all manner of beverages await your order, including a complimentary glass of champagne.
Then, with a fanfare, the company of waitstaff announce that the 300+ seat Spiegeltent is now open and ready for your entertainment and dining pleasure. And with that, you're off and running for three hours of nonstop munching, merriment and mayhem.
Seated at one of the linen-covered tables arranged in-the-round on various levels, the audience is waited upon by cheerful, exuberant waitpersons. The delicious, four-course dinner, developed and overseen by "The Goddess," Debbie Sharpe, begins with an appetizer, that already waits at your table.
Your waiter takes your order of entree you prefer (braised beef short ribs, a pasta dish, vegetarian Thai curry, roasted chicken breast or herb roasted salmon); he also records a credit card, in the event you decide to order additional drinks. While you're enjoying your first course, you start to take in your gorgeous surroundings.
The Spiegeltent Zazou is not your everyday canvas banquet tent. It's plush, lavishly adorned in dark mahogany, with stained glass windows, red velvet draperies, mirrors and crystal chandeliers.
On one side, there's a large stage that harbors the Orchestra DeVille, musically directed by Hans Teuber, and featuring the talented, six-member ensemble who provide the musical accompaniment for the performers as well as lyrical interludes for your dining pleasure.
The merriment is solid and outstanding. It's a bit like television's old "Ed Sullivan Show," a program that ran from the 1950's and 60's, featuring a variety of entertainment that included singers, dancers, acrobats and circus acts of all kinds.
The production spotlights eye-popping talent similar to Cirque du Soleil, combined with the musical expertise found in the finest nightclub and cabaret shows.
The evening is hosted by Frank Ferrante, a gregarious, outlandish actor  As an international master of comedy and improvisation, Ferrante takes on the persona of The Caesar," and he plays this role to the hilt.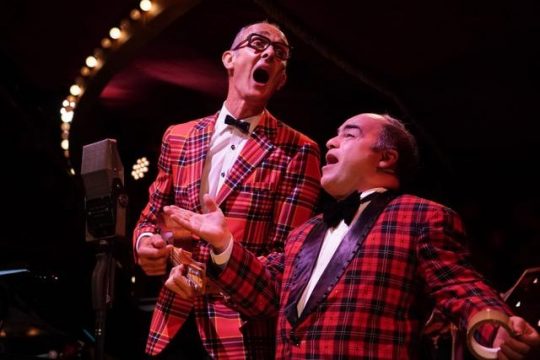 The hilarity continues with Tim Tyler, aka Mr. P.P., his goofy comic partner, Joe DePaul. They function as a kind of Abbott and Costello team, although some of the routines are a bit too long and run out of steam.
The musical performers are magnificent. Multitalented New York-based artist Amelia Zinn-Brown, known simply as Rizo, is a powerhouse diva. Imagine a mash-up of the looks and talents of Lady Gaga and Christine Aguilera, and you can imagine this gifted chanteuse. In this show, Rizo sings, provides comedy (again, some of which goes on too long) and introduces the other acts. She's as strong a hostess as Ferrente's Caesar; but together the two performers complement each other and provide a nice balance.
Chicagoan Kelly Britt is terrific, as always, whether singing opera, standards or pop. Britt will be remembered for her starring roles in Windy City productions as well as in operas.  She simply sparkles on the Spielgeltent stage.
The athletic artistry in this production is mind-blowing. An acrobatic balancing routine by the Anastasini Brothers, the romantic aerial adagio act of a talented team known as Duo Rose, the unbelievable juggling talent of Gamal David Garcia and the gravity-defying gymnastic and aerial work by Elena Gatilova all provide jaw-dropping entertainment throughout the evening.
The entire show, as to be expected, is a massive team effort. Norman Langill, President of the organization, is the director who somehow manages to stage the production and keep all the plates spinning at the same time.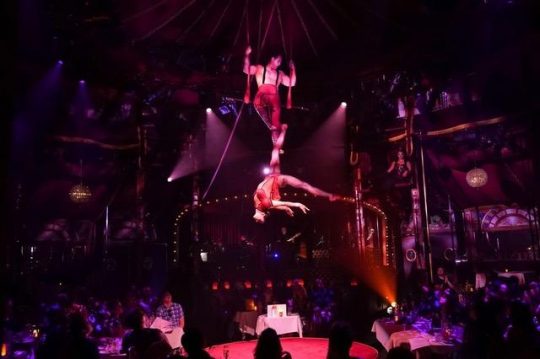 Reenie Duff is the show's artistic director and responsible for casting all the performers. Dreya Weber serves as co-director and choreographer, while the opulent costuming comes courtesy of Christine Joly de Lotbiniere.
Shauna  Frazier is the designer of all the scenery you see, Peter Braciliano is the master of the show's lighting design and Brendan West keeps the sound at the perfect pitch.
This is a unique entertainment opportunity Chicago audiences won't want to miss. Teatro Zinzanni on the 14th floor of the newly-opened Cambria Hotel, located in a space that once housed a gigantic storage facility and used to be a Masonic Hall, is the latest theatre to open in the Windy City. It's completely renovated, looking more like a sumptuous European cabaret theatre from between the War years.
The multifaceted production, itself, is a mind-boggling experience. Entertainment takes place throughout the audience, as well as on several stages located around the tent.
While the production is primarily aimed at adult audiences, liberal-minded parents might consider bringing older children who'll delight in the circus performances and the colorful atmosphere.
Teatro Zinzanni is, indeed, a vibrant spectacle of love and chaos, crowned by a glass of champagne and a delicious, four-course dinner.
"Love Chaos & Dinner"  is presented by Teatro Zinzanni at the Cambria Hotel, 32 W. Randolph St., Chicago through Sept. 29, 2019.  Running time: About 3 hours includes dinner. For tickets or other information call  (312) 488-0900 or visit Zinzanni.
Colin Douglas
For more shows visit Theatre In Chicago.