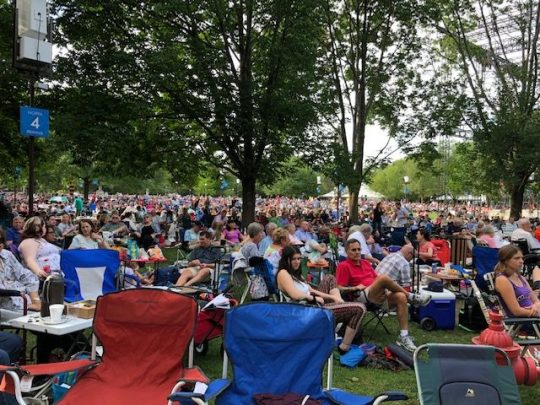 Tchaikovsky, the Chicago Symphony Orchestra and Itzhak Perlman brought friends and families out to Ravinia Festival Sunday. After storming in the morning, the weather was cooperating for Ravinia's annual "Tchaikovsky Spectacular" in early evening.
Blanket carrying, luggage-rolling, chair-toting, concert goers kept pouring through the park's gates even past the early 5 p.m. program start.
Each year, the popular concert fills the lawn with music lovers who know that the final notes of the "1812 Overture" are also an appropriate cannon  send-off to a Chicago Symphony Orchestra that is at Orchestra Hall downtown during the winter but plays at Ravinia in Highland Park in summer.
Heads, nodded and even feet seemed to join in from the blankets and chairs behind the Pavilion and across the lawn as Perlman expertly conducted Tchaikovsky's familiar Symphony No. 4.
After intermission, the 2017 Credit Swisse Young Artist Award winner, cellist Kian Soltani, a Deutsche Grammophon recording artist, wowed listeners with his deft handling of "Variations on a rococo theme for cello and orchestra and its virtuosic coda.
For the "1812" some lawn sitters with youngsters on shoulders, strolled over to the space on the northeast side of the Pavilion to watch the cannon shots.
Ravinia Festival was living up to its name. A festival mood had spread across the park as youngsters skipped around blankets and many picnickers, reluctant to leave on this balmy concert night, continued sipping, eating and chatting.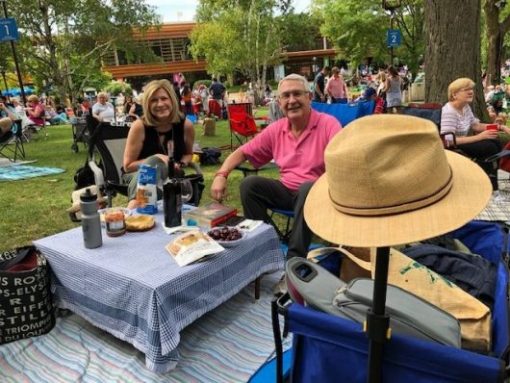 They had come well-supplied with wine bottles, dishes to share and other stuff.
Although this was the first time Sidney Burks and Julie Haase from Southern  Missouri had been to Ravinia, they were visiting Julie's folks, Patsy and Roger Haase, regular Ravinia goers from Arlington Heights. What was important to bring?
"A light," said Patsy, pointing to a very attractive decorated glass container sitting by their table that would be good for concerts continuing after dark. "This way we can find our way back to our table," she said.
Dan and Donna Berman who lived a lot closer in Deerfield, had already seen several concerts and had more planned on their calendar including the Michael Feinstein program.
Why come?
"I love Ravinia," said Dan. "I love music." He added. "Not necessarily in that order."
"We come every year for the '1812,'" said Donna.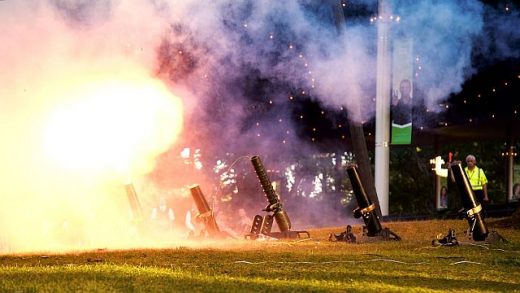 To see the schedule for remaining Ravinia concerts visit Ravinia Festival/calendar.
Jodie Jacobs