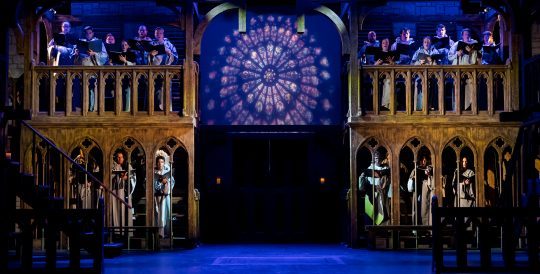 4 stars
I was curious to imagine how this epic story that features a soaring gothic cathedral in the heart of Paris would be portrayed at Music Theater Works' Cahn Auditorium venue.
But from the moment the curtain rose revealing the stunning scenic set design and twenty-four member choir for MTWs' "The Hunchback of Notre Dame," the audience was thoroughly captivated.
Set around 1492 the essence of this operetta is derived from Victor Hugo's  epic novel of the same name with similar themes of intolerance, injustice, abuse of power, and "man's inhumanity to man" as in his "Les Miserables."
It is clear from the opening that these are unfortunate themes that resonate today even as they did more than 500 years ago.
The story revolves around the character of Quasimodo (Billy Dawson) also referred to as the "Deformed Bell Ringer of Notre Dame," an orphan born with a number of physical anomalies and raised to adulthood by Frollo (Kent Joseph), "Archbishop of Notre Dame."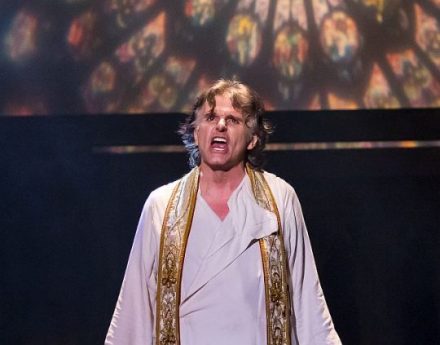 Frollo raised him within the confines of the cathedral, purportedly to shield Quasimodo from being reviled and tormented by the masses who would see him as a monster and treat him as an outcast.
Once a year on Topsy Turvy Day, the outcast Gypsies are allowed to revel in the cathedral plaza where they also choose the ugliest person they can find to crown him or her "King of the Fools."
Quasimodo sees this as an opportunity to go out in public, but he is considered so detestable that rather than being celebrated by the crowd he is pelted and whipped.
In light of this spectacle, Esmeralda (Anna Marie Abbate), a kind of Gypsy Princess, takes pity on Quasimodo giving him water and setting him free.
This brings the beautiful Esmeralda also to the attention of Frollo as well as Phoebus de Martin, Captain of the Cathedral Guard (Erik Dohner) setting the stage for a conflict of desire by all three men.
For Quasimodo, he is introduced by Esmeralda to his first real encounter with a tenderness never experienced before. Frollo is simply overcome with lust and attempts to use his powerful position to gain control of her, while Phoebus represents a true love.
In the end this leads to a disastrous conclusion for everyone.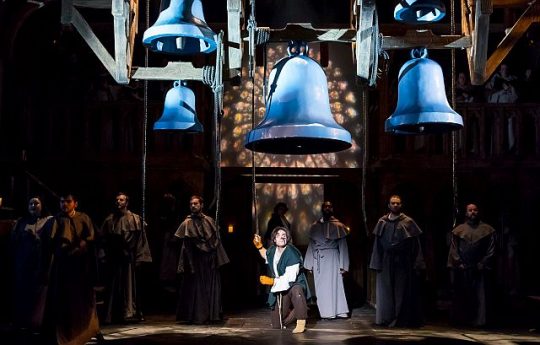 The book by Peter Parnell does an admirable job of finding the essence of Hugo's monumental work and condensing it for the stage.
The music of Alan Menken ("Beauty and the Beast," "Aladdin") and lyrics of Stephen Schwartz ("Wicked," "Godspell") are beautifully paired providing a coherent storyline with appropriate music themes that are sophisticated and reminiscent of the period while still appealing to a modern audience.
As always the live fourteen piece orchestra under the direction of Roger L. Bingaman is one of the highlights of this company. The addition of the choir and twelve person ensemble backing up the very capable principal performers combine to make this a grand musical production.
Retiring Artistic Director, Rudy Hogenmiller as stage director for this production and MTW veteran choreographer Clayton Cross, understand how to paint a picture on the Cahn stage utilizing every inch and every physical asset to their advantage.
Music Theater Works casts their actors primarily based on their singing ability . From this point-of-view, in this production they could not have done better from the largest to the smallest role.
The trade-off is that lines are not always delivered with the best intonation and dance numbers have a subtle feeling of insecurity at times. This is simply an observation but does not necessarily detract from the overall effect. The important thing to note is that from this company you will get top notch musical performance.
I wanted to complete this review without critiquing each principal role as they were all excellent, but I would be remiss to not mention the outstanding performance of Joseph as Frollo with his strong basso voice. He superbly projected the complex emotions of shallow piousness and lustful desire that fueled his evil actions.
DETAILS: "The Hunchback of Notre Dame" is at Cahn Auditorium, 600 Emerson St., Evanston, IL, through Aug. 25, 2019. Running time: about 2 hours with one intermission. Appropriate for age 8 and older. For tickets and other information call (847) 920-5360 or visit Music Theater Works.
Reno Lovison
For more shows visit Theatre in Chicago