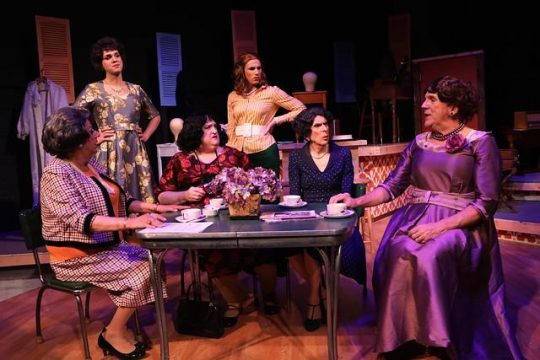 3 1/2 stars
As part of Pride Films & Plays' exploration of all things gender related, we travel back to the Chevalier d'Eon Resort in the Catskill Mountains. It's 1962, and a secret world is revealed to 21st century audiences that actually existed during those more innocent, post-war years.
For at least one weekend during the late Spring, a group of happily married men with families, highly-respected in their chosen, white-collar professions, gather in this secluded Garden of Eden to express their alter-egos.
These men are not homosexuals, nor do they harbor a hidden desire to undergo surgery in order to become full-time women. They're cross-dressers who, in private, simply enjoy (sometimes) being a girl.
In this remote setting, several longtime friends and a couple of  new acquaintances, are provided the freedom to express themselves as feminine, girly girls in their own private, woman's world.
This safe environment, in which each transvestite takes on her own persona and female name, is the creation of George "Valentina" and his wife Rita. Advertised in an underground magazine that attracts cross-dressers from New York, they flock to Chevalier d'Eon for a fulfilling, social experience.
Assisted by his understanding wife Rita, who also  happens to conveniently own a wig shop, George meticulously transforms into the stunning hostess, Valentina. Together the couple welcomes old friends and new guests.
Included are The Judge/Amy, a magistrate about to retire from the bench; Terry/Theresa, the elder member of the group; zoftig, Oscar Wilde-quoting Bessi; glamorous Gloria and nervous neophyte, Jonathan, who, thanks to a gang makeover, turns into the lovely Miranda.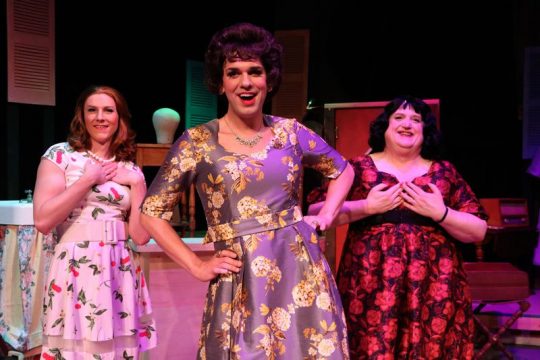 New guest Charlotte appears as somewhat of a celebrity to these men, being the editor of a magazine that covers cross-dressing events and makeup tips. But she soon creates a huge argument as she tries to convince The Sorority members to sign a paper that would legitimize their presence in society. It would publicly reveal the men's names, addresses and occupations, which would then be printed in her magazine.
More drama interrupts the weekend's  lighthearted festivities when George/Valentina reveals that he may soon have to close the resort because of financial difficulties.
In addition, he was just questioned by the government concerning an anonymous envelope delivered to him that contained photos of men in women's clothing engaged in pornographic activities. The pictures were meant to be delivered to another member ofthe  Sorority, but George had no idea who.
Written by Tony Award-winning actor and playwright, Harvey Fierstein, this is another of his plays that focuses on men dressing as women. His fame began on Broadway with his somewhat autobiographical drama, "Torch Song Trilogy," in which he also starred as a drag queen.
Fierstein went on to write the book for "La Cage aux Folles" and "Kinky Boots," both musicals about men who dress as ladies.
Pride Films and Plays' production of "Casa Valentina" is a highly-anticipated Chicago premiere, beautifully staged with empathy and style by returning guest director Michael D. Graham. Graham is ably assisted by Claire Hart Proepper, particularly serving as feminine movement coordinator for the cast.
The production couldn't exist without the impressive artistry of Robert-Eric West, contributing an array of stylish, period perfect costumes, wigs and tasteful makeup designs.
Evan Frank has done a monumental job of transforming the intimate Broadway Theatre into the many rooms and bungalows of this rural resort. Aaron Harris Woodstein creates an atmospheric palette of sounds and music that truly evokes the era and locale and Shelbi Arndt lights the production with appropriate aplomb.
The ensemble cast is beautifully led by Patrick Byrnes, as George/Valentina. Every aspect of this story revolves around his character. Byrnes captures the style and subtle nuances and mannerisms of the perfect hostess with  simmering smile and beguiling beveling. With Nicholia Q. Aguirre who plays a warm and honestly caring Rita, these two actors portray a loving married couple.
The talented Danne W. Taylor is equally strong, determined, and yet very humane, as Charlotte. Robert Koon makes his dazzling debut with Pride Films & Plays as The Judge/Amy. As Amy, Koon is never far removed from being the judicial authoritarian, and his cool head and eloquent speeches are ever the voice of reason. Later in the play, BethAnn Smukowski ably portrays Eleanor, The Judge's adult daughter.
Multitalented Kingsley Day, a fixture in many Gilbert & Sullivan operettas, brings his grace and good looks to the mild-mannered Terry. Michael Hagedorn returns to the Chicago stage in the role of Bessie. As this beefy broad, Hagedorn provides much of the play's comedy Also, as the play's authority on all things Oscar Wilde, Bessie is never without an appropriate quotation for every occasion.
As two of the younger members of The Sorority, Josh Marshall is gutsy and fierce as stylish Gloria. Blessed with a voice that cuts above all the commotion, Marshall lets everyone know Gloria won't be taking any crap from anyone.
And handsome Micah Kronlokken bewitchingly plays Jonathan, a newlywed who's still a relative newbie at cross-dressing. When his initial attempt to transform himself into Miranda, his alter ego, is met with good-natured ridicule, Jonathan agrees to let his new friends give him a makeover. Miranda's new look, amiable demeanor and charming smile, coupled with her new do, make Micah somewhat resemble a young Patty Duke. The audience then sees this weekend at the resort through Jonathan's eyes.
Harvey Fierstein's 2014 play isn't entirely fictional. It's somewhat based on an actual bungalow resort that once catered to transvestites but is now a summer retreat for Hasidic families. (Ed note: there was also a similar retreat in Michigan on Lake Michigan)
A few of the characters are based on the actual men who frequented this secret refuge. The Sorority is still in existence and is called The Society for the Second Self.
In Pride Films & Plays' entertaining and enlightening new production, Michael D. Graham has directed a play that, despite the obvious misconception, isn't about drag queens or female impersonators. It's a heartfelt story that both entertains, stirs the emotions and gives audiences a great deal to think about.
DETAILS: "Casa Valentina" is at Broadway Theatre,  4139 N. Broadway, Chicago, through Sept. 29, 2019.  Running time: 2 hrs., 10 min. For tickets and other information call (800) 737-0984 or visit Pride Films and Plays.
Colin Douglas
For more shows visit Theatre in Chicago